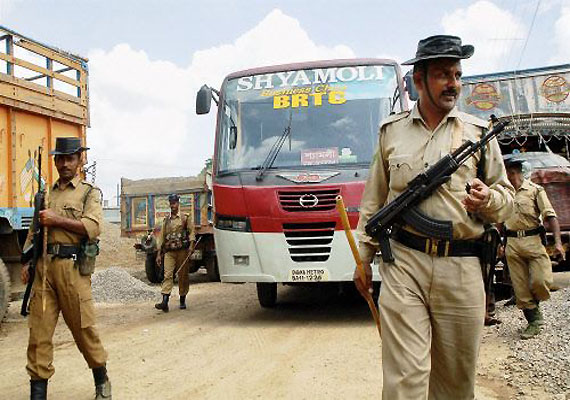 Agartala, Oct 3: The Agartala-Dhaka bus service, suspended after India's 'Maitree' passenger bus running between the two cities was burnt by an angry mob in Bangladesh last month, resumed after an 11-day break Tuesday, officials said Wednesday.
"As earlier, from now onwards both Indian and Bangladeshi buses would ply six days a week between Agartala and Dhaka," Tripura transport department secretary Kishore Ambuly told IANS.
"The Sep 21 incident was an isolated and a stray occurrence, not targeted at the Indian bus or passengers," Ambuly said.
The Dhaka-bound 'Maitree' passenger bus, run by Tripura Road Transport Corporation, was torched by an angry mob at Narsindi in central Bangladesh Sep 21. Narsindi is 50 km northeast of Dhaka and 45 km west of Agartala.
According to Bangladesh media reports, the incident was a fallout of a clash between two local political groups.
The driver and conductor of the bus sustained minor injuries, while all 22 passengers and one of the three crew members escaped unhurt.  
The bus service that covers 95 km distance, both India's 'Maitree' and Bangladesh's 'Shyamali', was suspended temporarily after the Narsindi incident.
The damaged Indian bus has brought back hare Sunday after official formalities were completed.
The Kolkata-Dhaka bus service running 242 km, the first direct surface communication between the two neighbouring countries, was initiated in July 1999 while the Agartala-Dhaka bus service was launched in September 2003.
The government-owned transport corporations of Bangladesh, West Bengal and Tripura are operating the bus services.
Meghalaya and other state governments of the northeast have also proposed to launch similar bus services between their states and important cities of Bangladesh.
The northeastern states are surrounded by Bangladesh, Myanmar, Bhutan and China and the only land route accessible to these states from India is through the Siliguri corridor in West Bengal - also called 'Chicken's neck corridor' - and Assam.
To avoid hilly terrain with steep roads and multiple hairpin bends, which makes the journey and transportation difficult, time-consuming and expensive, a large number of people from the northeastern states, specially Tripura, go to Kolkata and other parts of India via Bangladesh.