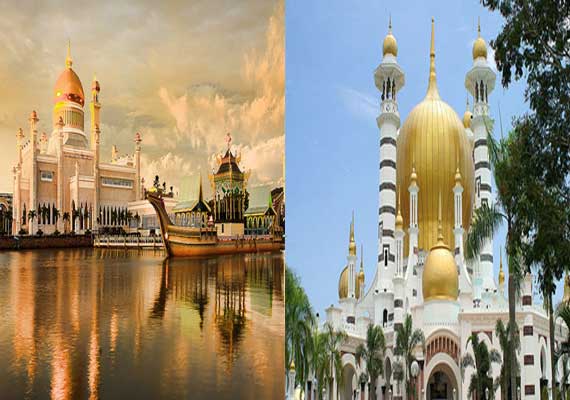 New Delhi: Mosques are fine examples of excellent architecture of Islam and Muslims. 
Beautiful mosques are found all around the globe, with the spread of Islam in various parts of the world.  
There are  many beautiful mosques founded in many countries. All these look stunning from the outside and if you are a Muslim, you can visit the interior.
Here is a list of 10 awe-inspiring, beautiful mosques from across the world:1. Al Haram Mosque, Mecca, Saudi Arabia
Al Haram mosque is the largest mosque in the world.The mosque located in the city of Mecca, around the Ka'aba, where Muslims pray toward it. 
The mosque is considered the holiest place on Earth by Muslims. The mosque is also known as the biggest Mosque.  
Current structure covers an area of 400,800 square meters (99.0 acres), including outdoor and indoor praying spaces and can accommodate up to 4 million people during the period of the Hajj, one of the largest annual worship of the Muslim in the world.
2. Al Nabawi Mosque, Medina, Saudi Arabia
Al-Nabawi mosque is the second holiest mosque in Islam and the second largest mosque in the world after the al-Haram mosque in Mecca. 
One of the most important place of this mosque is Green Dome, where the tomb of the Prophet Muhammad is located.  
It is not unknown when the green dome was built but a manuscript dating to the early 12th century explain about the dome.
3. Al Aqsa Mosque, Jerusalem, Palestine
Al-Aqsa Mosque, mean the farthest mosque, also known as Al-Aqsa, is an Islamic shrine in the old city of Jerusalme. 
In the mosque itself is part of Al-Haram ash-Sharif or "Sacred Noble Sanctuary", a site which is also known as Temple Mount as the holiest site in Judaism, because it is believed to be The Temple of Jerusalem once stood.  
The mosque is widely regarded as the third holiest site in Islam.
4. Zahir mosque Kedah Malaysia
The mosque was built in 1912, funded by Tunku Mahmud, son of the Sultan Tajuddin Mukarram Shah. 
This mosque is the tomb of Kedah warriors who had died while defending Kedah from Siam in 1821.  
The architecture from the mosque inspired by AZIZI Mosque in the city of Langkat in north Sumatra, Indonesia.  
The mosque was founded with five large domes symbolizing the five main principles of Islam.