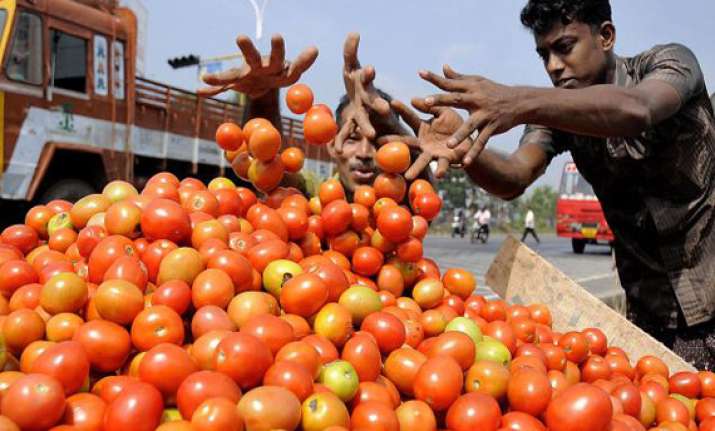 New Delhi: With tomato prices soaring up to Rs 80 per kg, the government is keeping a close watch on rising rates of the vegetable and also taking necessary steps.
The prices of tomato are continuously moving up with the onset of monsoon due to strained supplies and higher wholesale prices in key producing states.
"We are keeping a close watch on tomato prices and also monitoring the movement (of prices), whatever steps we can take, we are taking those steps," Consumer Affairs Secretary Keshav Desiraju told PTI.
However, the Secretary added, "It is a seasonal phenomena... tomato has very short life."
Tomato prices have soared up to Rs 80 per kg in the national capital after a substantial drop in supply from key producing states.
The average price of tomato, monitored by the Consumer Affairs Department, in 59 cities, however, stood at Rs 60 per kg.
The vegetable is selling at as high as Rs 100 per kg in Port Blair.
Tomato is available at Rs 80 per kg in Ranchi and Indore; Rs 72 per kg in Patna; Rs 70 per kg in Kanpur, Lucknow, Panaji and Kolkata and Rs 65 per kg in Raipur.
Prices are also on the higher side in Ahmedabad, Varanasi, Bhagalpur, Smabalpur, Rourkela, Ernakulam and Hyderabad. The key kitchen ingredient is available at Rs 60 per kg in these cities.
Meanwhile, prices of tomato at Mother Dairy's Safal outlets are stable and it has not increased prices from last two days. Tomatoes are available at Rs 55-56 per kg at its outlets in the national capital region.
Tomato traders at Azadpur Mandi in the national capital attributed the rise in prices to substantial drop in supplies from the northern region and high prices in other areas in anticipation of drought.
There is a steep fall in supplies from Himachal Pradesh this year which is the major supplier of tomato to northern parts of the country.
Besides, the prices from other key supplying stations— Nashik and Bangalore—are higher as compared to last year in anticipation of drought, traders added.