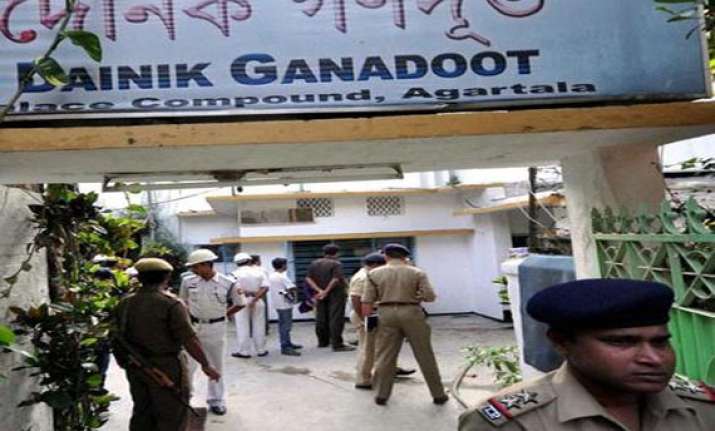 Agartala, May 20: Three newspaper employees, including a manager, were stabbed to death by two unidentified assailants at their office here on Sunday.
The incident took place  at around 3 PM when two assailants with knives stormed into the office of the Dainik Ganadoot, a Bengali daily in capital Agartala and stabbed to death proof reader Sujit Bhattacharjee, 32, and seriously wounded manager Ranjit Chowdhury, 60, and driver Balaram Ghosh, 40, both of whom died on way to hospital.  
According to AN eyewitness the two armed assailants came on a motorcycle and after entering the newspaper office asked for the manager  and went upstairs and stabbed him several times. 
On hearing the sound of the manager's screams, the driver and the proofreader tried to resist and both also fell victim to the assailants.  
The editor-cum-proprietor of "Dainik Ganadoot", Sushil Chowdhury, who lives in the same building,  said, the assailants wanted to kill him but they killed the manager in a case of mistaken identity. 
The Agartala Press Club, various media organizations and political parties condemned the attack and demanded better security for media employees in the state. 
Meantime opposition Congress called a dawn to dusk Agartala strike on Tuesday in protest over  the incident
Agartala police has issued an alert for the killers at all railway stations, airport and border checkpoints.
The police set a sniffer dog in motion within an hour of the killing but the dog moved three hundred yards and halted  at  a petrol pump. No clue has as yet been found by police to the incident or the identity of the killers.
IG (law and order), SP (West) Bijay Nag and officer in charge of West Agartala police station , Sanjay Biswas reached the spot and took statements from Sushil Chowdhury and other employees.
SP (West) Bijoy Nag said, over the years Sushil Chwodhury has been a 'very aggressive editor who never minces words' and it is quite possible that 'he has personal enemies'. But Nag said that police would go into all angles and the killer will be nabbed soon.
'The incident happened at a time when there were not many employees in the newspaper office , so there is hardly any eye-witness except slain driver Balaram Ghosh's wife Niyoti Ghosh (41) and daughter Papiya Ghosh (10) who saw two T-shirt and jean clad youths rushing out after stabbing Balaram' said Nag.
A host of political leaders belonging to both the ruling and opposition parties visited the office of 'Ganadoot Patrika' .
The CPI (M)'s state secretariat member and senior party leader Gautam Das, Congress MLA Asish Saha and leader of the opposition Ratanlal Nath , DM (West) Kiran Gitte and SDO (Sadar) Manik Lal Das visited the newspaper office and spoke to newspaper owner and staff.
During the past three decades Tripura has been known for politically motivated killings of five MLAs belonging to CPI (M) and Congress and one cabinet minister Bimal Sinha who had been shot dead in daylight in 1998 while negotiating the release of his kidnapped brother with banned NLFT militants . But there has been no killing of staff in a newspaper office like the one that happened today in the heart of Agartala town.