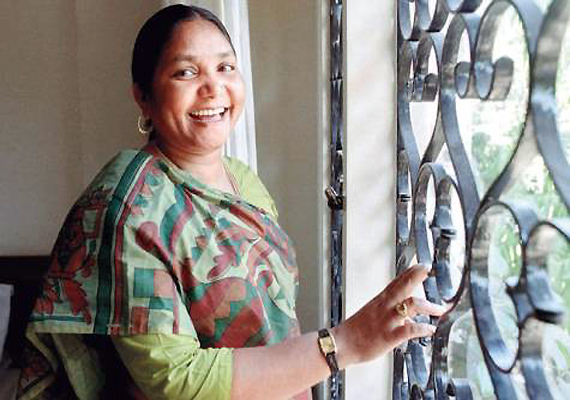 Sheikhpur Gorha (Jalaun), Feb 24: For an outsider, it could just be another non-descript village with tell-tale signs of deprivation and desperation in the badlands of Uttar Pradesh riven by caste divides.

The nearest hospital and high school are ten kilometres away and there is anger in the village, which falls in Kalpi assembly constituency, against SP and BSP as identity politics has let the area wallow in poverty.

However, remember slain bandit-turned-politician Phoolan Devi, who was born and brought up here, and you find out how her larger-than-life image hangs over the village, dominated by members of downtrodden Nishad (boatmen) and Pal (shepherd) castes, and her appeal remains intact as a unifying image even more than a decade after her assassination in faraway Delhi.

Ironically, all the candidates put up by major political parties Congress, SP, BSP and BJP for the ongoing assembly polls in Kalpi constituency belong to upper caste Thakur Umakanti Chauhan, Sanjay Singh Bhaudaria, Vishnpal Singh and Swatantra Dev Singh.

It was in Behmai village falling under Kalpi that Phoolan Devi had allegedly killed 22 upper caste Thakurs in March, 1981 that came to be known as the infamous Behmai massacre, in an apparent retaliation to her gang-rape.

"Had she not been killed after becoming MP for the second time, she could have become another Sonia Gandhi", says Vidya Devi, who remembers Phoolan as frequenting the village after becoming MP and distributing blankets and clothes among the poor.

Another village resident Bharat Singh Pal from shepherd caste says, "our voice was heard when Phoolan was an MP (from Mirzapur). Now there is nobody to lead us and here only the Chauhans (Thakurs) are being given tickets".

Put together, the votes of Nishad and Pal castes are around 90,000 while those of the Jatavs, Koris and other SCs are around 40,000. Brahmins, Muslims and Kushwahas also have a sizable presence.

Phoolan's family, which is in political wilderness, after the death of the bandit queen, is slowly attempting to organize a caste identity as her elder sister Rukmini Devi joined Pragatishil Manav Samaj Party of Premchand Bhind from Mirzapur. Rukmini has fielded one Jeerakhan Pal from the seat with an eye on the 56,000-odd Pal votes.

"After Phoolan's death, no national leader ever came to our village", laments Gram Pradhan of the village Vijay Bahadur Nishad.

Residents of the village, located on the confluence of Yamuna and local Non river, point to the problem of erosion "but nobody is bothered about our plight", complains Ramjeevan Nishad.

Vilagers recall Phoolan was taking efforts to check the impact of erosion by placing boulders. She had also promised an intermediate college for girls for which the land was finalized. There was also a plan to install a water tank in the village.

There is anger both against SP and BSP in the village. "When Mulayam Singh became Chief Minister, only Yadavs got jobs and when Mayawati occupied the top post, it was only the Jatavs who benefited," they allege.

One third of the youths were not in the village on the polling day on February 23 as most of them have gone to work in Delhi, Gujarat and Haryana as there is no job here, says Chhunna, a cloth dyer.

Nishad votes in the village as in the district and even the state Aare now divided and no strong caste leader has emerged after Phoolan.

"There is no big leader in our community whom everybody could listen. And hence our political voice is not strong. Had Phoolan been alive, she would have organized the Nishads. She was already working in that direction with Eklavya Sena. Perhaps she was killed due to that," says village Pradhan Vijay Bahadur.

Realizing the vote values of Nishads or Mallahs, Mulayam Singh Yadav has promised them the status of Dalits.

Mohammed Asim, owner of a shoe showroom in Kanpur, has put up a huge coloured photograph of Phoolan in his showroom and joined the poll fray as an independent candidate from Maharajganj seat in Kanpur.