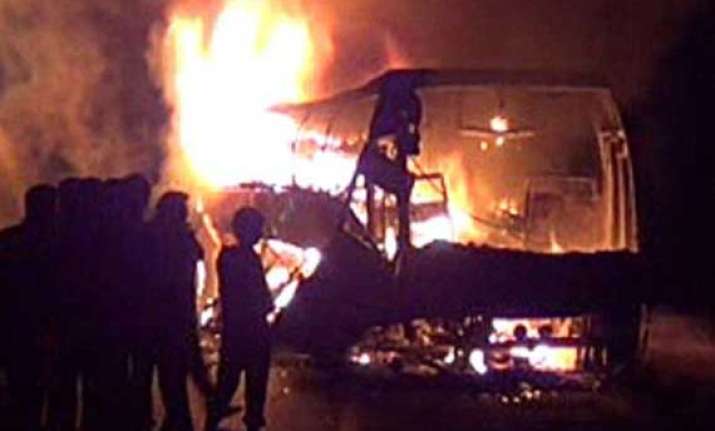 Bangalore: Six passengers perished when a private-run bus caught fire early this morning in Hiriyur town of Chitradurga district, abut 160 km from here.
Fifteen others suffered serious burns, out of which five are critical, sources said.
Police said, the bus belonging to SPR Travels was carrying 29 passengers from Davangere to Bangalore. The bus left at around 11 pm from Davangere.
On the way near Metikurki adjoining Hiriyur town, the bus suddenly caught fire at around 2 am on National Highway No 4.
The driver tried to stop the bus, but by that time, flames had engulfed the entire bus.
The bus (registration no KA-01C- 7353) was gutted completely before people rescued the passengers trapped inside.
Most of the passengers were sleeping inside the bus when it caught fire.
Those who suffered burns have been admitted to hospitals in Chitradurga and Davangere.
Initial inquiry revealed the cause of fire to be electrical short circuit. It was a semi-sleeper bus, which was later modified into a sleeper bus, which was against the rules, officials said.
The bus owner Santosh had a contract with SPR Travels, but the contract had expired four months ago.  The bus owner was still plying the bus in the name of SPR Travels, sources said.