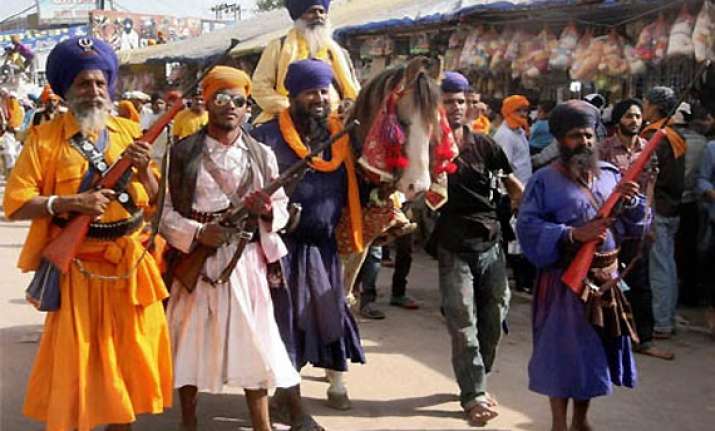 Anandpur Sahib: Lakhs of devotees converged Monday at Gurdwara Keshgarh Sahib here in Punjab to be part of the Hola Mohalla celebrations which coincide with the Holi festival.
People offered prayers and were later part of the Hola Mohalla procession and celebrations at the shrine.
Anandpur Sahib is located about 85 km from Chandigarh. The gurdwara here is the second most important shrine of Sikh religion after Harmandar Sahib, popularly known as the Golden Temple, in Amritsar.
Meanwhile, Punjab Chief Minister Parkash Singh Badal strongly criticised the directives of Election Commission banning holding of political conferences on the occasion Hola Mohalla.  
It may be mentioned that ruling Shiromani Akali Dal,Aam Aadmi Party and Shiromani Akali Dal(Amritsar) were schedule to organise their conferences on the occasion of Hola Mohalla on Sunday.  
However, election commission had ordered on Saturday evening that no political conferences could be organised on this religious occasion.
The Shiromani Akali Dal converted its conference in to a religious diwan and no political speeches were made on the occasion.
Only Chief Minister Parkash Singh spoke on the occasion.
He alleged that election commission had banned their conference at the behest of Congress.