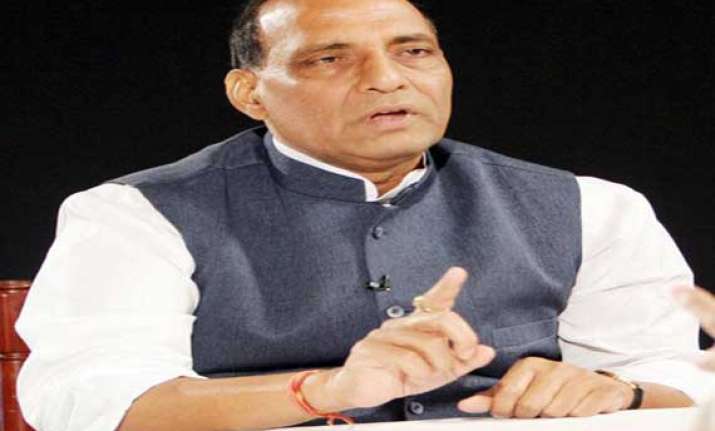 New Delhi: Parliament members should not doubt the government's intention in destroying some files in the home ministry, Home Minister Rajnath Singh said Monday after questions were raised about certain files being shredded by his ministry.
"Don't doubt the intention of the government in destroying files. We will not do anything that will disturb the flow of history," Rajnath Singh said while giving clarification on questions raised by Rajya Sabha members on the home ministry destroying some files.
Members quoting reports sought explanation from the minister on 1.5 lakh files destroyed by his ministry recently.
The home minister said none of the files was of historic importance.
"I can assure as the home minister and as part of the Narendra Modi government, any link of history is not being destroyed," the home minister told the upper house.
He said it was a routine practice, and it was not the first time a government did it.
"This is not the first time that files have been destroyed in the home ministry. Files have been destroyed during the UPA regime also, it is a continuous process.
"Files have been categorised as per the mandate of the manual of office procedure. It is a continuous process," the home minister said.
Communist Party of India-Marxist (CPI-M) leader P. Rajeev raised the issue last week, to which Rajnath Singh in a statement Friday replied that only 11,100 files were destroyed and these did not include files related to the assassination of Mahatma Gandhi.
Earlier, seeking a clarification, Rajya Sabha members asked if any other historic files were destroyed, and alleged that the government was trying to rewrite history.
"Less than 45 seconds was taken on deciding on every file. Was it pre-decided? That is why the allegation of trying to rewrite history is made," CPI-M leader Sitaram Yechury said.
"India is the only country which has no rules on transferring the files to the National Archives. We can find files of the Mughal era, and British period, but not of Independent India," he said.
Leader of Opposition Ghulam Nabi Azad sought to know if the files were recorded electronically.
"Micro-filming of the files could have been done," Azad said.
Sukhendu Shekhar Roy of the Trinamool Congress asked if there were any documents related to Subhas Chandra Bose that were destroyed.
Responding to the queries, Rajnath Singh explained that there were three categories of files.
"Those of historic importance are microfilmed. There are some files that are always kept safe, and never destroyed. The third category of files have to be kept safe for some time. Usually such files are kept for 10 years," he said.
He said the decisions were not taken in haste, and over 500 people were involved in selecting the files to be destroyed.
The minister said the government was ready to share the details of the files destroyed with the members.