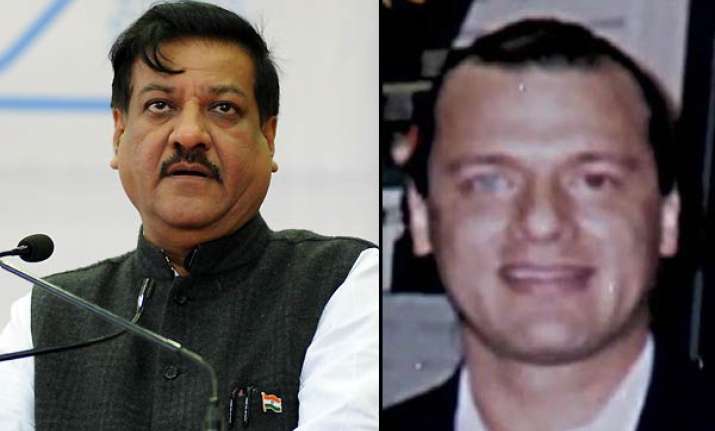 Mumbai, May 25 : Maharashtra chief minister Prithviraj Chavan on Tuesday night said the state would wait for the Centre's directive to probe if Headley had met Sena leaders during his stay in Mumbai.

Chavan said trial was being held in another country, and he did not know much about it.

"Let the matter come to the Union government. We will probe if the Centre (government) asks us to do so," he said. 

Headley said he forwarded the emails with "Reggie" to Rana and that in June 2008, returned to Pakistan and met Major Iqbal and Sajid (more than once).

Questioning his links with the Sena, the prosecutors, during the first hour of testimony on the second day, brought in the communication he had with "Reggie" or Rajaram Rege, the Shiv Sena's public relations officer.

Headley testified he shared his communication with "Reggie" with Rana, Major Iqbal, Sajid and Pasha.

He was asked about several emails he sent to Rana, Major Iqbal and Sajid – all to confirm that Rana and he were in direct communication with all of them.

The email sent to Sajid indicated that Bala (Bal Thackeray) would be travelling with "Reggie's boss" (Uddhav) to the US and that he could be assassinated "over here" (in the US).

Headley said he and Sajid discussed they wanted to kill Shiv Sena people. "We have discussed. This man (Rege) was very important and would have given us access to this organisation (Sena)," he said.

Headley also talked about killing Shiv Sena leaders. Sena leader Sanjay Raut in Mumbai, however, denied that the Sena had any officer by the name of Rege. "This [Headley's statement] is completely false and baseless," Raut said.

Sena spokespersons refused to comment on Headley's statement that the Sena was a terrorist outfit. They said any statement on the matter would be made by Sena executive  president Uddhav Thackeray.