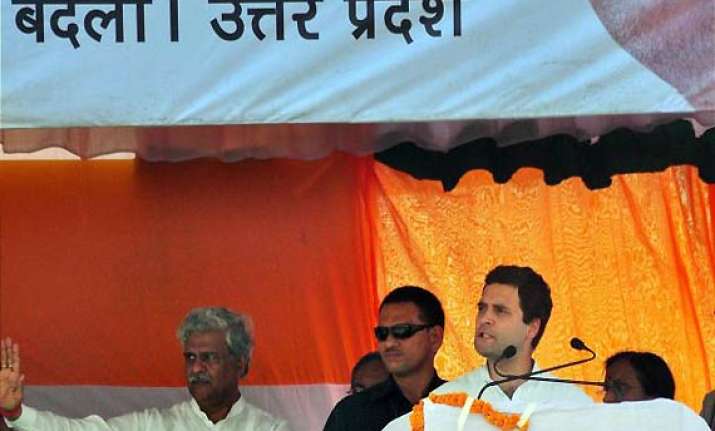 Ramnagar (Barabanki), Nov 22: Unfazed by criticism from various quarters, Congress General Secretary Rahul Gandhi today stuck to his controversial remarks on people from Uttar Pradesh begging in other states, terming it as an "unpleasant truth".

Embarking on a 5-day tour of the poll-bound state, he said  when he makes a reference to begging it is opposed by all but there is an urgent need to see this "kadvi sachchi" (unpleasant truth).

The state has been left behind in development and people of Uttar Pradesh will continue to go to other states in search of employment, Gandhi said.

"Political leaders should pull down the glass windows of their cars and look around. I do it", he said addressing a political rally here.

"When I finds people begging on the streets of Delhi , I pull down the windows of my car and ask them as to where they belong to and get the answer that they belong to Uttar Pradesh," he said.

The Congress leader said that leaders should ask those who seek alms and they will know the reality of Uttar Pradesh.

Rahul came under attack from his opponents  political over his remarks at the Phulpur rally on November 14 when he said people from Uttar Pradesh go to beg in states like Maharashtra because of lack of development in their state.

The Congress had dismissed the criticism as a reflection of opposition's "restlessness" over its "rise".

Gandhi said the state has been left behind in development and people from there will continue to go to other states in search of employment.

"The country has moved forward and you are lagging behind. If you do not move forward, then you will have to go to the rest of the country like you do.

"You go to Maharashtra, Punjab, Haryana to work and you will have to keep doing that," Gandhi said.  He  said that UP was losing out on the development opportunities that the other states were benefiting from. 

"Bangalore has moved ahead in the IT sector. If UP wants to work in this sector, it cannot, because Bangalore and Hyderabad have established a monopoly in this sector.  If you want to set up automobile industry in UP, then Tamil Nadu and Maharashtra have already moved ahead and the loss is yours," Gandhi  said.

Attacking BSP and SP, the Congress leader told the gathering here that their leaders give a lot of speeches but they could not hide what they have done in the past 20 years.

"What they have done in the past they will do so in the future," he said.

On his mission 2012, Rahul claimed that picture of Uttar Pradesh would be changed in five years time once Congress came to power in Uttar Pradesh.  He also claimed that after changing the picture of the state in five years, and in next ten years it would be among the top states in alround development in the country. 

"The governments in the past 20 years have not done anything for the benefit of the people . These were the governments led by people having a casteist mindset .. now you have to ensure that a government of common people led by the Congress comes to power in UP ", he exhorted the electorate.