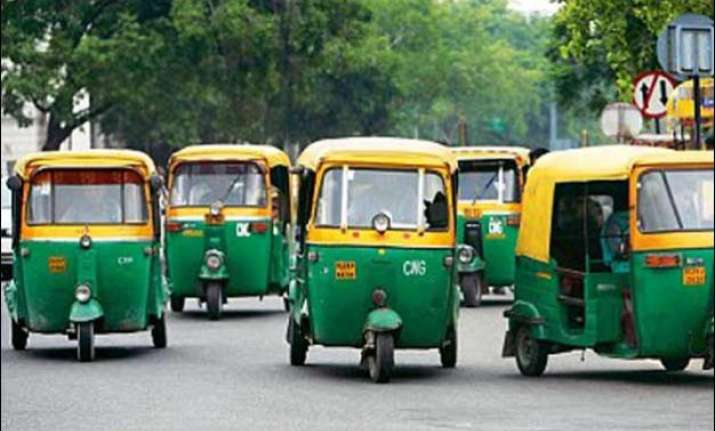 New Delhi:  Taking note of complaints against auto drivers, the AAP government has made it mandatory for them to wear Public Services Vehicle (PSV) badge, a step it feels would help identify errant drivers.  
The Arvind Kejriwal government has warned that stringent action would be taken against auto drivers if they do not comply with its order.
At present, there are more than 80,000 autos plying in the national capital.
The government's move comes few days after the transport department launched a special drive against autorickshaws "harassing" passengers.
"Wearing PSV badge has been mandatory for autorickshaw drivers by the government. 
Transport department has directed all auto drivers to wear PSV badge while driving their vehicles, failing which strict action will be taken against them," a senior government official told PTI.  The official also said that department's officials will either impound their vehicles or impose a heavy fine for violating the order.
According to the government, the new step will help 'regulate' autorickshaws plying in the city and passengers will also be able to easily identify them (autorickshaw drivers) in case there is any complaint against them.  
Delhi Traffic police will also be asked to take action against errant drivers.
"In Delhi, PSV badge is required to drive public vehicle, but there was no rule of wearing it. Now, they (auto drivers) have to wear this badge as per new order," official said.  Last month, the government had launched a special drive against auto drivers not following norms and causing harassment to passengers.
On July 11, transport department had impounded 366 autorickshaws for failing to follow the set norms. A total of 372 autos had also been challaned by the enforcement department on the same day.
Angry over the drive, Delhi Autorickshaw Sangh has threatened to go on strike.
"Autorickshaw drivers are being harassed by impounding their vehicles for violating even minor rules. If government does not stop its drive within 15 days, we will go on strike," Rajendra Soni, general secretary of union, said.