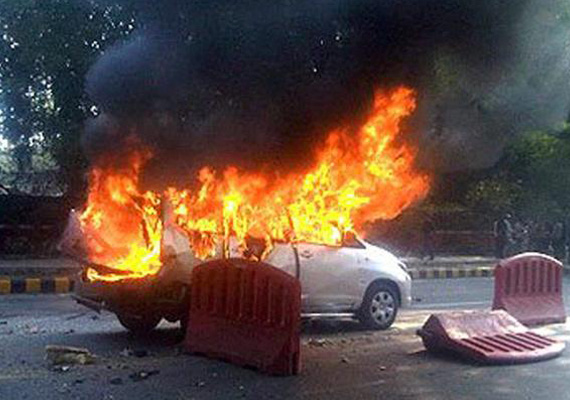 New Delhi, Feb 15: Police is yet to make any headway in Monday's bomb attack on an Israeli embassy car here even as an intensive search for the attacker and a red motorcycle used by him were on.

Sources said 250 gm of explosives were used in the bomb that targeted a car of the Israeli embassy in which four persons, including a diplomat, were injured. 

They said Delhi Police is coordinating with Israeli investigators through the country's Embassy here and have launched a hunt for the red bike which the attacker used. 

Police have also started the process of collecting details of Iranians living in the capital and are awaiting the report of the Central Forensic Sciences Laboratory (CFSL). 

CCTV footages have not provide much help even as investigators yesterday recovered magnetic pieces from the device used for exploding the sticky bomb. 

Five persons owning red coloured motorcycles were detained yesterday but were let off later while another person who was caught on CCTV in front of Israeli embassy appeared before investigators.

An assailant riding a motorcycle had stuck a bomb on the car in which the Israeli embassy employee Tal Yehoshua-Koren was travelling that exploded injuring her and others on Aurangezeb Road near the Prime Minister's official residence.