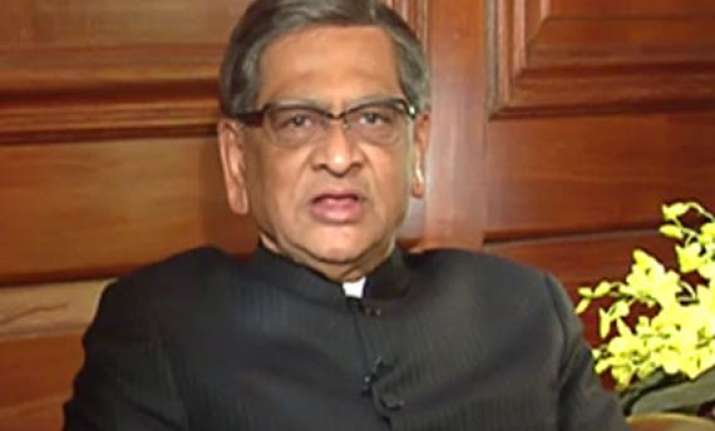 New Delhi, Dec 9 : Both Houses of Parliament were adjourned today following uproar over opposition demand for resignation of External Affairs Minister S M Krishna for his alleged involvement in a mining scam. 

The opposition had been demanding Home Minister P Chidambaram's resignation yesterday over the 2G scam issue, but after the Lokayukta court ordered filing of cases against three former state chief ministers including S M Krishna, the guns turned towards the External Affairs minister today.

As soon as Speaker Meira Kumar read out an obituary reference to the victims of Kolkata fire, BJP members rushed to the Well demanding Krishna's resignation after Karnataka Lokayukta Police registered an FIR against him. 

Congress members from Telangana region were seen waving banners and raising slogans for a separate state. 'Fulfil your commitment, Honour Telangana Sentiment', 'Telangana is People's Demand, United Andhra is leader's demand', 'Two years too late, Honour December 9, 2009 Promise' read some of the banners waved the Congress members.  Amid din, the Speaker adjourned the House till noon.
 
On 9 December 2009, Home Minister P Chidambaram had announced that the Centre would start the process of forming a separate Telangana state, pending the introduction and passage of a separate resolution in the Andhra Pradesh Assembly.
 
Following the announcement TRS chief K Chandrashekar Rao had ended his 11-day fast to press for a separate state.However, nearly a fortnight later the Centre announced that no action would be taken on Telangana till a consensus was reached by all parties.

As the Rajya Sabha convened for the day, Opposition BJP trooped into the Well demanding Krishna's resignation.  "Have shame! S M Krishna you resign...," BJP members shouted slogans following which Chairman Hamid Ansari adjourned the House till 12 noon.