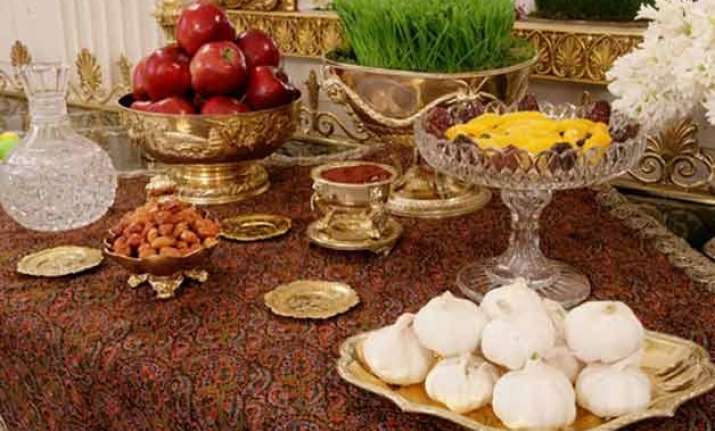 Celebrated on March 21, Navroz is marked as the Persian New Year. Despite being in small numbers i.e. 69,000 (0.006% of Indian population), Parsis in India celebrate this festival with full zeal and fervor.  
Navroz, interestingly, is celebrated in some part of Lucknow too. The Shia Muslims celebrate the festival with equal enthusiasm like Zoroastrians. According to Shia's of Lucknow's belief it is celebrated to mark the day when Ali was declared the successor of Muhammad.
 
Parsi community believes in Fire as their main god and keeps a live fire in a bowl of water for this festival. They usually keep fire surrounded by water and wheat to signify cleansing by fire and the bountiful wealth of wheat grains. Since there is no fire temple, all Muslims celebrating Navroz get together at the community hall for a prayer service in the evening and light up a fire followed by community dinner.
 
Religious authorities annually announce the colour code of the year on this occasion and fruits of the same color are used while celebration.
 
The Parsis are an immigrant community, hailing from Fars, Persia, and now located in Bombay, western India. They are distinguished by their adherence to the Zoroastrian faith. The Parsis have shrunk from 114,000 in the 1950s to 69,000 in 2001, or 0.007% of India's population, according to the latest-available census data.
 
Navroz is celebrated on the day of the astronomical Northward equinox, which usually occurs on March 21 or the previous/following day depending on where it is observed.
 
The moment the sun crosses the celestial equator and equalizes night and day is calculated exactly every year and families gather together to observe the rituals.
 
Nav' means new and 'roz' means day and hence it is easy to know that Navroz is the first day of the Persian year. Navroz is only used in India as the actual word is Nowruj or Nooruj.
 
For Parsis, the table on this day has 7 food delicacies, all beginning with 'sh' and 'sa' that symbolize the creation of the earth in 7 days. Muslims also make dish made of suji and dry fruits for this festival.
 
For Shia Muslims, Navroz means nazr or religious offerings both at homes and at Imambaras. This year, the colour for Navroz being black, all sweets and fruit eaten will preferably be black in colour.
 
Gulab-jamun, black grapes and 'kaali gajar ka halwa' will be the main highlight of these years dastarkhwan are few main foods of this festival.  
 
Apart from Parsis and Muslims, Kashmiri Pandits also celebrate this day as their New Year with a big celebration and feasting. As it is the harvest festival, people visit each other with dry fruits.