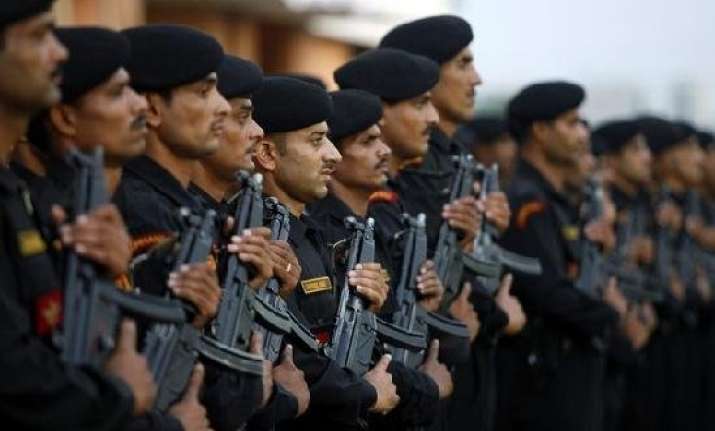 New Delhi: The National Security Guard (NSG) has decided to improve the quality of lives of its personnel by declaring 2014 as the 'year of the commando' and undertake a host of initiatives in this direction.
Apart from providing the commandos the best of equipment and gadgets to combat terrorists and anti-nationals, the elite force has initiated measures to provide its men better living conditions and enhanced benefits of welfare schemes.
"Our success in action greatly depends on our commandos at the front line. We therefore decided to dedicate 2014 as 'the year of the commando'. The aim is to achieve significant improvements not just in counter-terrorist skills and capabilities of our personnel but also in the quality of their lives," NSG chief J N Choudhury told PTI.
He said the force, which is spread across four hubs country-wide and its central garisson in Haryana near here, has initiated measures to better the living conditions of its combatants like ensuring all basic facilities at their barracks and grant of a higher House Rent Allowance (HRA) and increased payment to the family of the commandos killed in action or during the active line of duty.
"The sanctions for grant of compensation have been enhanced for NSG commandos. The measure is one of the many steps taken to boost their morale," a senior officer of the force said.
The NSG is not only tasked for undertaking special operations in the counter-terror and counter-hijack domain but also provides 'Z+' security cover to some of the high-risk VVIPs in the country.
Officials said the force has also obtained sanctions from the Union Home Ministry to upgrade recreational and sporting activities for its commandos at all the centres of the force in Mumbai, Kolkata, Chennai, Hyderabad and Manesar in Haryana.
The four hubs were created by the government to quicken the response time of NSG commandos whose response time came under criticism during the terror attacks in Mumbai in 2008.
The NSG is a fully deputationist federal contingency force which draws its commandos from the best in-service troops of the army and paramilitary forces.