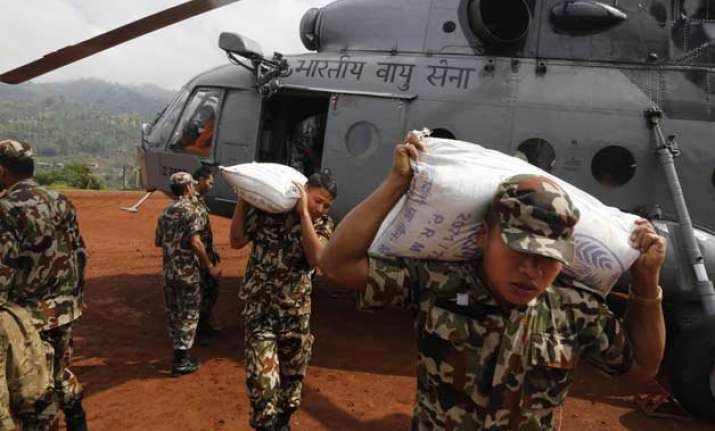 Kathmandu: Over 2,600 earthquake victims in Nepal have been treated so far by Indian medical teams, the Indian envoy said here today while providing details of the largest ever relief operation mounted by India in response to a natural disaster abroad.
1,170 of the victims have been treated at Barpak, the epicentre of the earthquake, Indian ambassador to Nepal, Ranjit Rae, said while briefing the international community about rescue and relief work carried out by India.  
"Operation Maitri is the largest ever support operation by India in response to a natural calamity abroad. It represented not only the deepest commitment at the highest political level in India but also overwhelming outpouring of support from the people of India and over a dozen Indian states including those bordering Nepal," Rae said.
The 7.9 magnitude quake on April 25 killed at least 7,365 people, including 41 Indians, while 14,355 others have been injured in the tragedy which has affected around 8 million of the 28 million population of Nepal.
Reiterating India's stand, he stated that India was ready to offer any support to the government of Nepal within its means and rescue and relief efforts carried out by India are being closely monitored in India and are also being coordinated with the international community.  
After the devastating earthquake hit the Himalayan nation, India sent the first air force flight which landed in Kathmandu with National Disaster Response Force (NDRF) rescue teams and relief material within six hours of the quake.  
Thereafter, IAF 32 flights brought in 520 tonnes of relief materials containing tents, blankets, medicines, cooking material, food, water, heavy engineering equipment, ambulances, RO plant, oxygen generators, two full-fledged army field hospitals with 18 medical teams, 18 army engineering teams and 16 NDRF teams.
These teams have been working round-the-clock since their deployment in close coordination with the government of Nepal.  Reacting to the Nepal government asking foreign rescue teams to leave the country, an Indian Embassy spokesperson told PTI, "We have received a letter from the Nepal government regarding this and our rescue teams will be soon leaving the country. The Nepal government has issued similar letters to all the embassies".
Eight Mi-17 and five ALH helicopters of the Indian Army, operating from Kathmandu and Pokhara, have carried more than 207 tonnes of relief material in 449 sorties, evacuated over 900 injured and transported over 1,700 stranded people of various nationalities.
"A 10-member Chinese rescue team was inducted and extricated from Pipaldanda, Sindhupalchowk by IAF. A medical team from Singapore was also inducted through IAF at Laprak.  More foreign troops will be inducted through Indian Army relief and rescue operations," a statement from the Indian Embassy here said.
"A 31-member team from AIIMS and a medical team from Gujarat are working at the National Trauma Centre, Kathmandu.  A team of 11 doctors from Shantikunj Haridwar has been deployed in affected areas of Kathmandu. Two teams from Haryana and Punjab have started Langar (field kitchens) at Bhaktapur and Kupondole catering meals to over 10,000 persons per day," the statement said.
450 trucks carrying about 4,500 tonnes of relief material like food, water, medicines, tents, blankets, tarpaulins and plastic sheets from the governments of Uttar Pradesh and Bihar as well as NGOs have arrived in Nepal.
Separately today, 18 trucks containing 100 tonnes of food and relief material and an ambulance with 5,000 blood testing kits received from government of Uttar Pradesh for the earthquake victims was also handed over to the authorities in Kathmandu by the embassy.