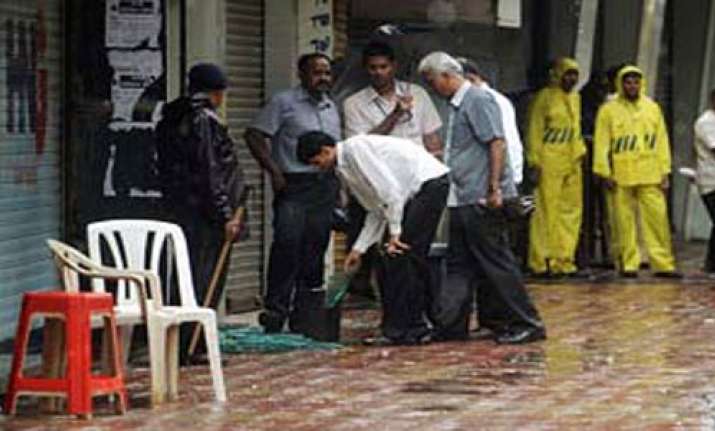 Mumbai, July 19: Investigators piecing together the jigsaw puzzle of the July 13 triple bomb blasts in Mumbai feel the blasts could have been the handiwork of a little-known militant outfit, the JIAM (Jamiatul Ansarul Muslimeen), reports the Mumbai newspaper DNA.

Based on all the available information and evidence, investigators have found out that at least six people were involved in planting the bombs in various places in the city.Of the six, three have a thorough technical knowledge of bombs, an officer said. "They probably moved in pairs," he said. "Each pair went to the three locations - Zaveri Bazar, Opera House and Dadar. Those with technical expertise must have planted or placed the bombs."

Experts have started focusing on the involvement of JIAM, a relatively new terror outfit with a strong base in South India. Another investigator said the group functions as a shadow organisation of the Indian Mujahideen (IM). The group recruits people from the IM and even from the underworld, the DNA report says.

An officer from a central investigative agency said JIAM, originally a organisation based in Bangladesh, has recruited several fresh faces from Uttar Pradesh, Madhya Pradesh, Jharkhand, Gujarat, West Bengal, Andhra Pradesh and Kerala.There are unconfirmed reports that say JIAM could also have connections with the Taliban, the officer said.

JIAM is also known to issue fatwas and the outfit even has some Pakistanis.The outfit plays a pivotal role in strengthening the roots in the Southern Indian states of Kerala, Karnataka, Andhra Pradesh and Tamil Nadu.

According to the intelligence bureau, JIAM's main function is to spread the work of Lashkar-e-Taiba and the IM. "Some of their key members are holed up in West Asia," the officer said.

The outfit's members keep changing their names and identities to dodge the police."The outfit's name first cropped up after the bomb blasts in Bangalore," the officer said.