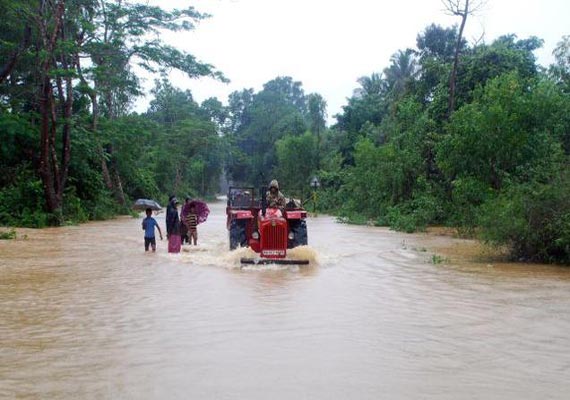 Lucknow, Jul 25: Five more people perished in rain-related incidents pushing the death toll this monsoon to 161 in Uttar Pradesh where major rivers flowed near the red mark at several places yesterday.
Two persons each died in Bahraich and Fatehpur and one in Barabaki since last evening, officials said.
River Ganga was flowing close to the danger mark at Fatehgarh, Kannauj, Ankinghat, Kanpur and Ballia, the Central Water Commission said.
River Ram Ganga, which was flowing near the red mark at Dabri in Shahjahanpur, was maintaining a rising trend, it said.
River Yamuna was also in spate and was perilously close to the danger mark at Mavi and Prayag Ghat in Mathura, the Water Commission said.
River Sharda had touched the danger mark at Palia Kalan and was still rising while Ghaghra was flowing above the red mark at Elgin Bridge in Barabanki, Ayodhya and Turtipar in Ballia.
Rapti had crossed the red mark at Balrampur and was flowing near the danger level at Bhinga in Shrawasti, Bansi, Regauli and Birdghat.
Light showers occurred in some parts of the state with Muzaffarnagar receiving two cms of rains and Ballia and Nawabganj one each, the Met office said.