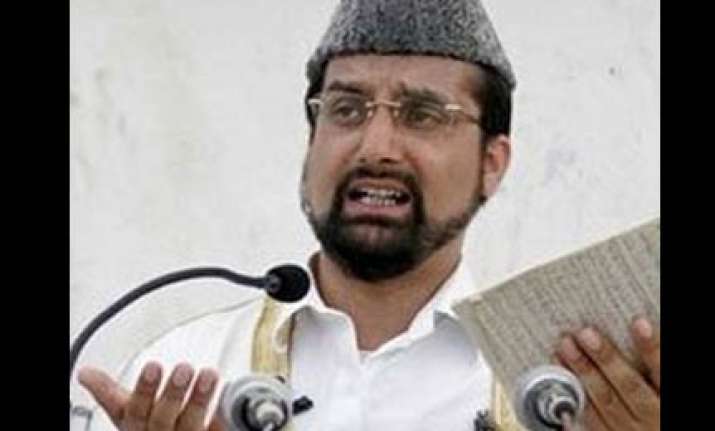 Srinagar: Terming Farooq Abdullah's statement that most of the people in Kashmir wanted to be with India as "baseless" and "misleading", Moderate Hurriyat Conference Chairman Mirwaiz Umer Farooq on Friday said the Union minister had made it to save his post and his party's government in Jammu and Kashmir.  
"I feel ashamed that Abdullah, being a citizen of Jammu and Kashmir made such a baseless and far-from-truth statement in the Indian Parliament. The statement was made by him to prove his loyalty to India, just to safeguard his interests and perks besides saving his party's government in the state", the Mirwaiz said addressing a Friday congregation at Jamia Masjid in old city.  
Participating in a debate in the Lok Sabha on the Kashmir situation, Union minister for New and Renewable Energy and National Conference leader Farooq Abdullah had contended that most people of the state, including those living in areas under Pakistan's occupation, wanted to be with India.  
Amidst slogans of "Shame, Shame", the Hurriyat leader said it was unfortunate that Abdullah family that was "imposed on the people and ruled the state for 60 years could not understand the wishes and aspirations of the people here".  
Ridiculing the statement of Abdullah, he said there are people in India who knew the genesis of the Kashmir issue and Abdullah acted as "more loyal than king" for petty ministry and concessions. "For God's sake, stop exploiting Kashmiris", he said referring to Abdullah and asserted that the Kashmiris' struggle for "independence" would continue. PTI