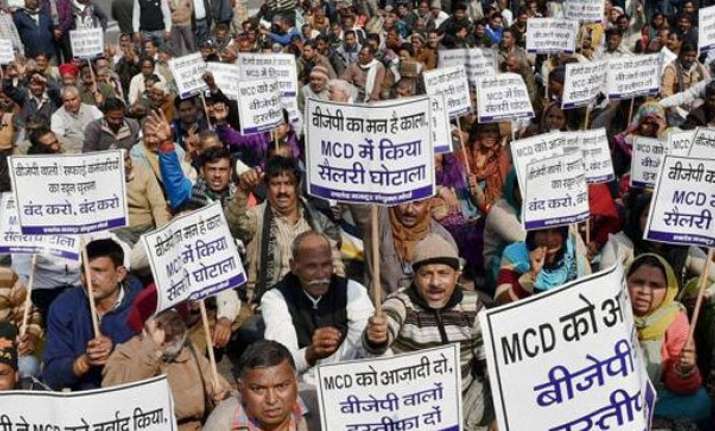 New Delhi: The employees of three civic bodies in national capital today agreed to call of their strike and resume work after the intervention of the Delhi High Court.
A division bench of Chief Justice G Rohini and Justice Jayant Nath asked the civic workers to call off the strike as they had been paid the January salary. The issue of arrears will be taken up on Wednesday.
The joint front of sanitation workers assured the bench that they would end the strike immediately and resume work.
"All the safai karamchaaris are now calling off the strike and resuming the work immediately," the bench said, taking into note the submissions of union of safai karamcharis.
The civic bodies told the bench that salaries up to January have been paid to them.
"We should get all our dues from 2003. The temporary workers should be made permanent. The Delhi government, had on October 23, 2015 said that the pending arrears would be cleared. But, it hasn't been cleared even now. The government is misleading us and somewhere we are becoming the victims of politics," said one of the protestors.
"If any Talibani diktat is announced or if even a single employee of the MCD is removed, then we would make this protest very aggressive and the government would then have to pay its price," he added.
On Saturday, Municipal Corporation Teachers Association called off their indefinite strike after they received their pending salaries. Along with the teachers, MCD doctors and para-medical staff have also ended their strike.
Earlier, Lieutenant Governor Najeeb Jung had also offered additional loan of Rs 300 crore to East and North corporations to pay the salary of protesting workers.
The Delhi Government had also released Rs 693 crores to the corporations in this regard but the protesters are demanding permanent solution of their salaries issue.