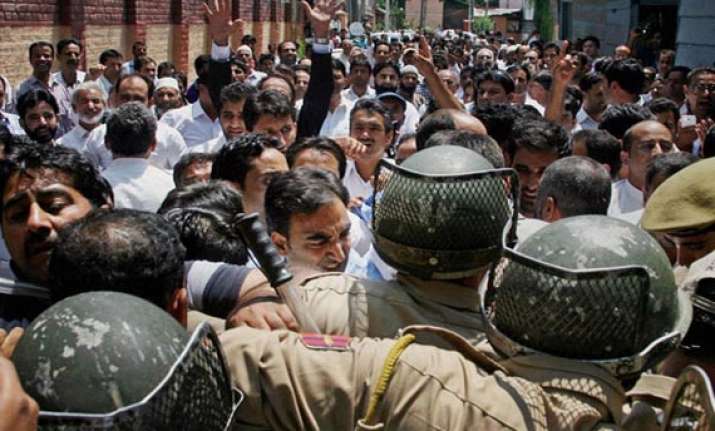 Kishtwar, Jammu and Kashmir: Situation in Kashmir Valley's Jammu region, that had witnessed violent clashes recently, was limping back to normal, allowing authorities to lift curfew in seven districts today and relaxing it for 4 hours in Kishtwar.
"Curfew has been lifted in 7 districts of Jammu region except Kishtwar, where 4-hour morning relaxation was given," Divisional Commissioner Shantu Manu said. 
Curfew was imposed on Friday after communal clashes, in which 3 people were killed, over 20 others injured and 75 business establishments and 35 vehicles damaged in arson. 
"There was no reports of any untoward incident from anywhere. It was peaceful today as Independence Day functions went well are all the places were curfew was lifted," he said. 
In Jammu, the I-day function was held amid heavy rains and Deputy Chief Minister unfurled the Tricolour and took salute of the parade. 
Authorities had imposed curfew in Jammu and Rajouri on Saturday after some incidents of violence. Curfew was clamped in Reasi, Udhampur, Samba, parts of Doda, Kathua on Sunday. 
Relaxation was given in all curfew-bound areas of these districts yesterday and the situation had remained peaceful. 
Meanwhile, the Jammu Chamber of Commerce and Industries (JCCI) yesterday called off its 48-hour bandh in Jammu, saying that the state government has promised to deliver relief compensation within one month. 
"Government added to our demands (about compensation of full losses of traders in Kishtwar in Friday arson). This will be done in time bound manner and after the completion of the assessment on the ground, the relief will be delivered within one month", JCC President Y V Sharma said yesterday. 
BJP and VHP had yesterday announced to launch agitation from August 16 to put pressure on government for accepting demands of compensation and security to minority community hit by Firday arson in Kishtwar. 
Police had yesterday detained 13 activists belonging to a local outfit when they were on their way to of Srinagar to hoist the National flag there. 
A total of 141 people have so far been taken into custody in connection with the Kishtwar violence. 
As many as 68 shops, seven hotels and 35 vehicles were damaged during Friday's violence in Kishtwar, which also led to the deaths of three persons. Emerging story. Watch this space for updates as more details come in