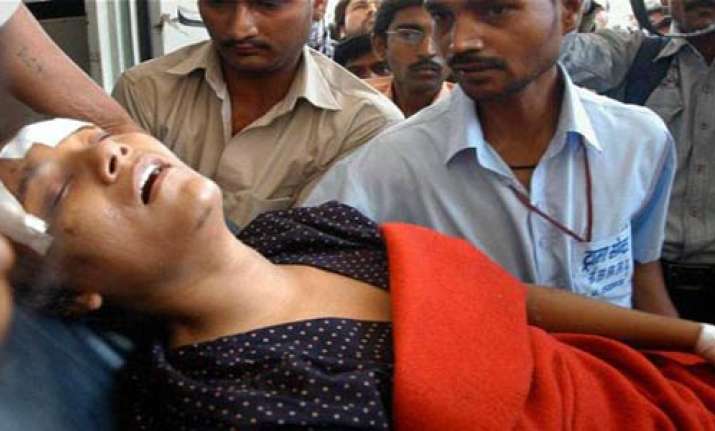 Lucknow, Apr 26: A probe by the Government Railway Police has found loopholes in the version given by athlete Arunima Sinha that she lost her leg after being thrown out of a train by robbers in Bareilly.

Dismissing the investigations, the 23-year-old national level football and volleyball player said she was being "mentally harassed" by the police.

ADG, Railways AK Jain said, "The investigations point out that Arunima was disturbed and she either attempted suicide or met with an accident. We will unravel it in the next few days".

"The loot attempt as alleged by her was not corroborated in the investigation by any of the witnesses on or off the record", the ADG said.

During investigation, it was found that no physical test for ITBP was scheduled for April 11 in Noida, where Arunima said she was heading.

Also, she was found at a spot, which was 16 feet away from the up track on which Padmavat express passed and she was lying on the far side of the adjacent down track, the investigators said, adding that it was impossible to land so far, if pushed out of the train.

Arunima's version that the speed of the train was very fast was also found to be "untrue" as after halting for 12 minutes at Chanaiti Railway Station in Bareilly, Padmavat Express moved 250 meteres (the spot, where she was found), where the speed cannot be more than eight km/hour, according to the investigators.

The investigators feel that Arunima had crossed the railway line.

Claiming that her visit to Delhi was unplanned, the investigators said that Arunima was in touch with her brother-in-law Om Prakash Tripathi till 2.30 am while she was at Charbagh Station in Lucknow on April 10.

According to her mobile records, before coming to the station she made a call to her friend Sanjay in New Delhi from Kursi road.

Sanjay had told police that Arunima was disturbed and suddenly made a plan to visit Delhi.

Arunima had claimed that she had lost her leg after she was pushed out of the Padmavat Express in Bareilly on April 11 by three men trying to snatch her gold chain when she was travelling to Delhi to appear for an examination.

When asked about the police view, Arunima said over phone from New Delhi that she was being "mentally  harassed".

"I don't know whether the police is with me or against me. I was going to CISF, Noida office to enuire about the Centre for physical exam scheduled on May 7 and to ensure a correction in my date of birth in the call letter I  have received", Arunima said

"Some persons tried to snatch my chain and one of them hit me on  abdomen...and I fell", Arunima said.

When asked how she landed 16 feet away from track, the athlete said, "I was not so far..But I don't remember whether my foot came under Padmavat Express on any other train".

She also stated that she was not going to appear in the ITBP exam.

Besides losing her leg, Arunima also sustained injuries on her spine and pelvic.

The police had lodged an FIR under section 307 (attempt to murder) and 393 (attempt to loot) against unidentified youths in this connection. PTI

A K Jain, Additional DG at the GRP headquarters in Lucknow says, in all likelihood, she either attempted suicide or met with an accident. "We will unravel it in a day or two," said Jain.

Jain said a study of the site where Arunima was found, her mobile phone record, versions of the people she called up and visited the previous evening, and inquiries from railway officials showed two things: that there is little evidence to corroborate her story, and that she is hiding something.

According to Arunima, she boarded the Old Delhi-bound Padmavat Express at Lucknow on the evening of April 10 as she had to participate in a physical test for an ITBP selection at Noida the next day.

She was travelling in a general compartment. In the wee hours of April 11, near Chanaiti railway station, some men tried to snatch her gold chain and when she resisted they pushed her out of the door. She landed on the adjacent track and her leg got cut under a train coming from the opposite direction, she said.

On Sunday evening, GRP investigators questioned Arunima at AIIMS, where she is undergoing treatment, and videographed the exercise.

Jain said Arunima stuck to her version. Here is what the investigators have found:

* No physical test for ITBP was scheduled for April 11 in Noida.

*Arunima was found at a spot which is 16 ft away from the up track on which the Padmavat Express passed. She was lying on the far side of the adjacent down track. Investigators say it is impossible for a person who has been pushed out of a train to land so far away.

*Arunima was found at a spot which is about 250 metre away from the Chanaiti railway station between Lucknow-Bareilly. The railway records showed that Padmavat Express halted there from 4.08 to 4.20 am. Therefore, its speed at that point could not have been more than 8 km/hour. But Arunima told the police that the train was moving very fast when she was pushed out.

*After Padmavat Express's departure, five trains passed the down track in about 45 minutes. Arunima came under one of these trains. The fact that she was found on the far side of the track shows that she actually crossed the line.

*Arunima has said that she carried her certificates and two cellphones in a polythene bag which she had kept on her seat and that this bag was left behind. Investigators found one cellphone in dismantled condition while the other was found intact by a labourer who handed it over to the police. In this cellphone, the call record and the messages had been erased. The labourer said he did not know how to use a cellphone. The police have sent the cellphone to a forensic lab.

*Arunima said that she stayed with her sister Lakshmi and brother-in-law Om PrakashTripathi at Ruchi Khand in Lucknow before leaving for Charbagh railway station around 10 pm on April 10. But the location of her cellphone that evening was on Kursi Road in Gudamba police station area.

Investigations have shown that Arunima had gone there to her estranged husband Robin Chitravanshi's house. They were married about four months ago, but the marriage lasted barely 20 days. Chitravanshi told the police that they had paid her Rs 4.29 lakh as part of the settlement, but still she had lodged a case of dowry harrassment against him, his parents, sister and brother-in-law. He said Arunima arrived that evening and said that she wanted to apologise, but they refused to talk to her.

Also, the police found that Arunima went from Kursi Road to Charbagh railway station around 11.00 pm and caught the Old Delhi-bound Padmavat Express from platform number 7 around 12.20 am. After the train left, she made a call to her brother-in-law Om Prakash Tripathi. He arrived at the Charbagh station after half an hour and he remained in contact with Arunima on the phone till 2.30 am while staying at the station.

Tripathi told Indian Express that he kept persuading Arunima to return since she had left for Delhi all of a sudden in his absence.

*Before coming to the station, Arunima had made a call from Kursi Road to her friend Sanjay in Delhi. He has told the police that she was disturbed and decided to visit Delhi all of a sudden. Police said she did not carry any clothes which, too, showed that she had not planned her visit.

*The travelling ticket submitted to the railway authorities for the accident claim, although bought from the Charbagh station at 11 pm on April 10, is meant for a different train which goes to the New Delhi railway station. No ticket was found on Arunima immediately after the incident.
Meanwhile, doctors at AIIMS treating Arunima Sinha, today said they will conduct another two rounds of surgery in a few days for infection reduction on her amputated leg before performing operation for other injuries she has suffered.
"Since she has responded well to the treatment for the infection in her amputated leg, we have decided to conduct another two sittings of vacuum assisted closure (VAC) wound therapy. Once the wound heals we will analyse the right leg," Trauma Centre head M C Misra said.

VAC therapy is a process in which a device, having low intensity suction pipes, are attached to a wound to drain out infected fluid.

Yesterday Misra had said they will perform surgery for her other injuries today.

23-year-old Arunima, who lost her left leg after being pushed out by robbers from a running train near Bareilly in UP on April 11, was shifted from a Lucknow hospital to AIIMS Trauma Centre on April 18 after she developed an infection in her amputated leg.

She had undergone two rounds of surgery last week for reducing the bacterial load in the infected amputated leg.  Arunima had also got fractures on her right leg and spine and suffered head injuries in the incident.

Misra said, "For treatment of fracture in the spine, the only cure is complete bed rest. Once her wounds heal, we will open the plaster of the right leg and see if the bone have joined or not. If not joined we will conduct a surgery for it." PTI