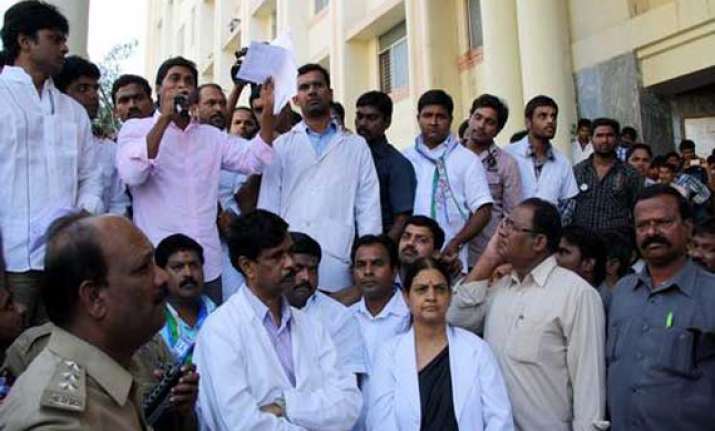 Hyderabad: Junior doctors at the government-run Gandhi Hospital here continued their flash strike on Tuesday causing severe inconvenience to patients.
Protesting the attack on a junior doctor by the relatives of a patient, over 400 junior doctors as the post-graduate medical students are called, continued their strike paralyzing medical services at Telangana's biggest government-run healthcare facility.
Several poor patients were seen lying unattended as the outpatient services remained crippled. The in-patient services were also hit and surgeries were postponed as junior doctors refused to attend to their duties. The relatives of patients also staged a protest seeking early intervention by the government to end the strike.
The striking doctors are demanding the immediate arrest of those involved in the attack on their colleague Sunday night.
The Telangana Government Doctors' Association has demanded permanent security cover in all teaching hospitals in the state. It has sought deployment of a Special Protection Force (SPF) to provide security. It alleged that private security agencies deployed a few years ago after similar incidents have failed to protect the doctors.
In 2007, junior doctors had gone on a month-long strike to protest an incident in which a local legislator manhandled a junior doctor at Niloufer Hospital here. The government then issued an ordinance making attacks on doctors a non-bailable offence.
The government provided SPF cover and set up a police outpost on Niloufer campus after another attack on a junior doctor in 2011. The SPF was subsequently removed and the services of private security agencies were hired.