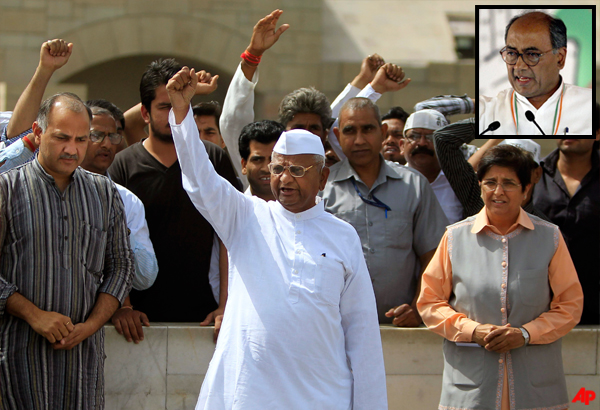 Guna (MP), Mar 26: As Anna Hazare revived his Lokpal agitation on Sunday by holding a day-long hunger strike in New Delhi, Congress leader Digvijay Singh accused his team of exploiting him and observed that corruption will not end merely by framing a law.
"Corruption will end with a strong willpower and not by merely enacting a law," Singh told reporters here today.
Targeting Team Anna, he said "its four prominent members are exploiting Hazare while they themselves never launch any agitation. Their main aim is to oppose Congress."
He also criticised Team Anna member Arvind Kejriwal for "showing disrespect" to the Parliament and said that the entire house should not be blamed just because of few persons.
Responding to a question, Singh ruled out any possibility of a mid-term poll saying that the next Lok Sabha elections would be held as scheduled.
When asked about his absence from the Madhya Pradesh Congress Committee's Coordination Committee meeting held in Bhopal yesterday, Singh said that its dates were announced at a very short notice and therefore, many leaders were unable to attend it.