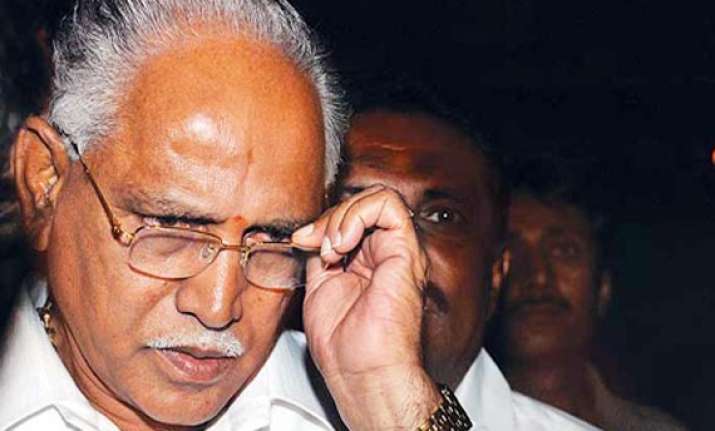 New Delhi, May 14: Stepping up pressure on Chief Minister B S Yeddyurappa, Karnataka Governor H R Bhardwaj today appeared to suggest a trial of strength for the BJP government in the wake of the Supreme Court quashing the Speaker's decision to disqualify rebel party MLAs.

After a meeting with Prime Minister Manmohan Singh, he said the Supreme Court judgement reversing the High Court verdict in this regard as an endorsement of his stand that the floor test should be taken on the respective strength of the Assembly.

Refusing to answer a question whether he would be advising a floor test afresh in the context of the Supreme Court order, he said "it is too premature".

He said the apex court judgement was a stricture against the Speaker and the Chief Minister.

"120 per cent. I had advised floor test (in October). It should be taken on the respective strength of the party without bringing them down. They (BJP government) resorted to exactly the opposite," Bhardwaj told reporters here.

He described his meeting with the Prime Minister as a courtesy call. He made it clear that there was no talk on the issue with the Prime Minister.

Terming the Supreme Court judgement as "very important", Bhardwaj said, "The Supreme Court restored the status quo. I have to study the case law and the ramifications of the order and put it to the (state) government."

The Governor said that he will be writing to the state government after reaching Bengaluru.

"Supreme Court has now clearly said that the Speaker and Chief Minister acted in violation of Constitution and procedural norms in dealing with their MLAs," Bhardwaj said.

The Governor said his view was that the floor test was very sacrosanct commitment and it should be carried out earnestly according to the Constitution rather than doing a head count.

In a jolt to ruling BJP in Karnataka, the Supreme Court yesterday quashed the disqualification of 16 MLAs ahead of the controversial October 2010 no trust motion, saying the Speaker acted in "hot haste" to favour of Yeddyurappa.

Meanwhile, one of the BJP rebel MLAs and former Fisheries Minister Anand Asnotikar said the 11 legislators had never defected from the party and were only demanding a change in leadership.

"We never defected nor said anything about the party...We are against the leadership. We have gone to justice," he said.

About the future course of action, Asnotikar said, "We have to consult our supporters and for betterment of our state. We will hold a meeting. We are united." 

In Delhi, Congress spokesperson Manish Tewary said  BJP was running a minority government in Karnataka and it had converted that into a manufactured majority through manipulation.

Tewary demanded that the sanctity of the Constitution should be upheld at all costs.

Former Prime Minister H D Deve Gowda's son and Janata Dal-S leader H D Kumaraswamy said, the Speaker and the Chief Minister must take full responsibility for the fiasco.