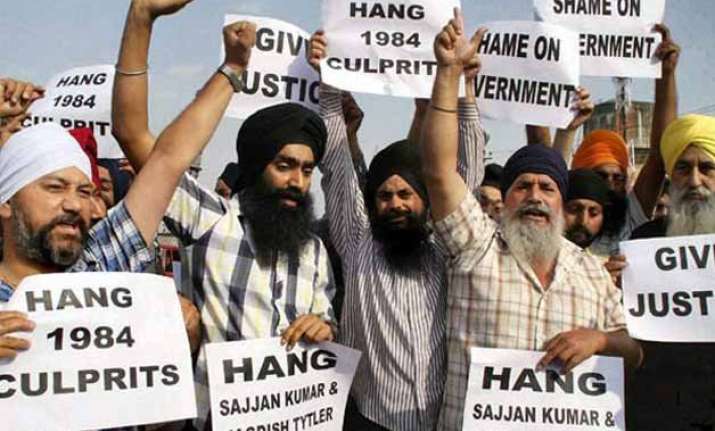 New Delhi: A Delhi court today issued notice to the CBI on a protest petition filed by the victims of anti- Sikh riots against its closure report giving clean chit to Congress leader Jagdish Tytler for his alleged role in the 1984 massacre.
Additional Chief Metropolitan Magistrate (ACMM) S P S Laler sought CBI's response on the protest petition filed today against the third closure report in the case and fixed the matter for September 11.
In the petition, complainant Lakhvinder Kaur, whose husband Badal Singh, was killed in the riots sought the court's direction to CBI to probe the matter further to bring on record available incriminating evidence against the accused.
The plea filed through senior advocate H S Phoolka, who is representing the victims, said the CBI's investigation was "faulty, tainted, dishonest and perfunctory".
"The closure report deserves to be rejected and ignored and there is ample evidence available on record as well as otherwise for this court to direct CBI to conduct further investigation as the witnesses are available and ready to give their statements concerning the incident," it said.
The petition alleged that the agency has not examined and recorded statements of the witnesses who were available to depose against the accused. It said even the Complainant does not exonerate Tytler in her statement.
"The closure report has been filed in favour of Tytler on the premises that no incriminating evidence is available against him and hence CBI was not proceeding against him.
"This court can take cognizance of final report submitted by CBI against Tytler as there is ample incriminating evidence against him even in the final report which has been glossed over by CBI in an endeavor to give a clean chit to Tytler," the plea said and accused the agency of shielding "powerful politician who was involved in worst and heinous massacre".
It also alleged that CBI was able to trace out only those witnesses who are deposing in Tytler's favour and those who do not testify in his favour, the agency says they are untraceable.
Regarding witness Surinder Singh's son Narinder Singh who was allegedly sent to Canada by Tytler, the victims said CBI had recorded his statement in 2008 after he shifted to that country but "now when it comes to taking action against Tytler", the agency says he could not be examined as his whereabouts were not known.
The victims sought action against Tytler on allegations of influencing witness and money laundering.
The CBI had earlier told the court that no fresh FIR has been lodged against Tytler on allegations of influencing witness and money laundering.
CBI's reply had come while responding to the court's query whether the agency has registered any case against Tytler under sections 193 (punishment for false evidence), 195A (threatening a person to give false evidence) of IPC and the Prevention of Money Laundering Act (PMLA).
The court had earlier asked CBI to respond to allegations that Tytler had allegedly tried to influence a witness by giving him money and sending his son abroad and also alleged hawala transaction.
The charges of influencing witness and hawala transaction had surfaced from the statement of arms dealer and navy war room leak case accused Abhishek Verma, which was recorded by the CBI earlier.
Verma, who is currently in prison and whose statement was recorded by CBI on August 5, 2013, had said that the conversation between him and Tytler took place after his release from jail in the leak case when they were going to a farmhouse of Gopal Kanda, then a Congress MLA of Haryana, in August-September 2008.
The main case pertains to riots at Gurudwara Pulbangash in North Delhi where three people were killed on November 1, 1984 after the assassination of Prime Minister Indira Gandhi.
CBI had claimed Tytler was not present at the gurudwara during the riots and was rather at Teen Murti House.
Tytler's alleged role in the case relating to the killing of three persons -- Badal Singh, Thakur Singh and Gurcharan Singh -- near the gurudwara was re-investigated by CBI after a court had in December 2007 refused to accept its closure report.
Tytler had earlier denied any role in the riots.