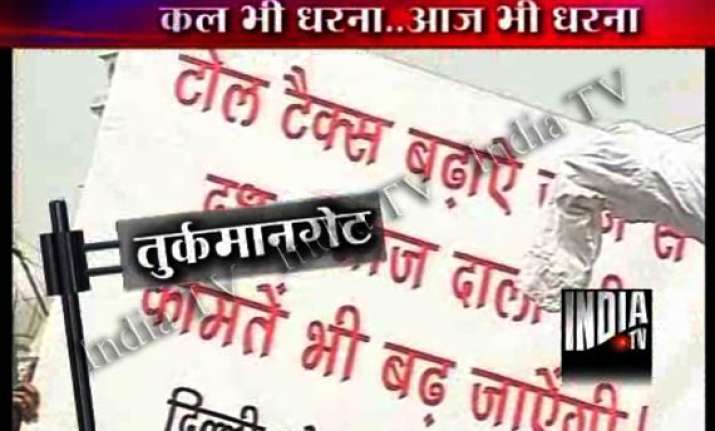 New Delhi, May 17: It was Congress' turn to pay back the BJP in the same coin on Tuesday.

While BJP activists had created traffic snarls at 14 places on Monday while staging protests against petrol price hike, Congress activists took to the streets at 144 places of the capital to protest hike in toll tax by the BJP-controlled Municipal Corporation of Delhi.

Entry of commercial vehicles into the capital  has become costlier  from Monday,  wuth the MCD implementing new toll tax rates. From this year, the civic agency has increased the toll tax by 17% to 28% under different categories on all commercial vehicles entering Delhi.

Trucks carrying fruits and vegetables to the city from different states will be the most affected by this hike. "Cost of milk, fruits, vegetables etc is likely to increase, as these items come from neighbouring states," said a fruit wholesaler.

The MCD claims the hike in toll tax for commercial vehicles entering the city was not aimed at burdening the common man and the additional revenue received from it will be used for improving civic services.

The revised toll tax rates were approved in December, 2010 and these are being implemented with effect from today after following due procedure, Mayor Rajni Abbi said.

The MCD has engaged a new contractor for maintenance of toll booths along the city and for collection of tax. The civic body will get an assured sum from the private agency.

"During the last six months, MCD endeavoured to obtain optimum revenue collection which could in turn be invested in civic services. Fortunately, MCD could get a record financial bid of Rs 312 crore for one year (for toll tax contract) as against Rs 193 crore during the last year," Abbi said.

This additional income of Rs 120 crore will also be invested for improving civic services, she said.

The toll tax is being levied only on commercial vehicles entering the municipal limits, said the Mayor. No toll tax is being charged from private vehicles, public service vehicles, ambulances, fire fighting and police vehicles, government vehicles with red and amber light, defence vehicles and hearses.

"The revision in toll tax will not affect common man," she said amid concerns that it might lead to increase in prices of some essential items like vegetables.

The Mayor said that "certain vested interests" are criticizing the increase in toll tax rates.

"They are diverting attention from the recent increase in petrol prices, milk prices and the proposed increase of diesel and LPG prices," she said.

Abbi informed that MCD had to link the toll tax rates with Wholesale Price Index.

The fee chargeable in respect of taxi, tempo, Tata 407 and such type of commercial vehicles will now be Rs 45 per visit while it will be Rs 85 for bus, truck, Nissan and Tata-709. The MCD said the rate for six-wheels truck will be Rs 165, for 10-wheels truck Rs 330 and for 14-wheel truck Rs 820.