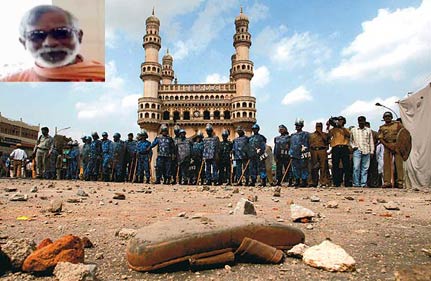 New Delhi, Nov 19: CBI today arrested an absconding Jatin Chatterjee, popularly known as 'Swami Asimanand', for his alleged involvement in the 2007 Mecca Masjid blast in Hyderabad that left nine people dead.
The evasive Swami, who is considered as an ideologue by Abhinav Bharat, an organisation alleged to be behind the Malegaon blast in Maharashtra in 2008, was arrested from Haridwar in the wee hours today after the agency got leads about his presence in the area, official sources said.
Swami Asimanand, 59, who is also known as Swami Omkarnath, was produced before Additional Chief Metropolitan Magistrate Ajay Pandey here which allowed the plea of CBI to produce him in a court in Hyderabad within 48-hours.
According to CBI, his name had cropped up along with that of other accused Sandeep Darge, Ram Chadra Kalsangra alias Ramjee.
Asimanand was living under a fake identity in Haridwar and had also procured fake identity cards. CBI recovered a passport issued by RPO Kolkotta, a Ration Card and Election Card issued by Haridwar authorities from his possession.
While his name had surfaced during the investigation of Mecca and Ajmer blasts, the investigating agencies did not know much about his appearance, the sources said.
They said the trail of the Swami began from 2009 onwards when the security agencies got firm information about the way he used to change his appearance.
The CBI and ATS (Maharashtra) had carried out searches in 2009-10 at various places in Madhya Pradesh and Gujarat after receiving information about his presence. However, he had always managed to evade arrest, the sources said.
Nine people were killed when an explosion ripped through the historic Mecca Masjid in Hyderabad on May 18, 2007. Five more persons were killed in police firing when protests were held immediately after the blasts.
A post-graduate in Botany, Asimanand is a resident of Hooghly in West Bengal and came to tribal area of Dangs in south Gujarat's tribal area in the late 1990s. PTI