Follow us on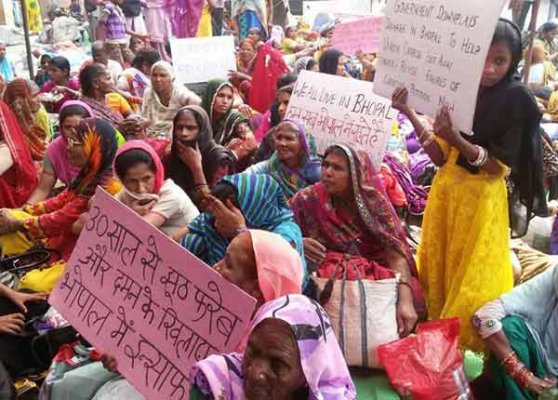 New Delhi: Five women representatives from Bhopal-based organisations along with thousands of survivors of the Union Carbide tragedy today began an indefinite fast at Jantar Mantar in New Delhi demanding enhancement in the compensation.
The agitators called on the Prime Minister Narendra Modi and the Minister of Chemicals and Fertilizers to correct the errors of the previous government on the issue of compensation for the gas disaster.
The major demands are additional compensation of at least Rs 1 lakh for all identified survivors (over 5.69 lakh) and revision of the figures of death and extent of injury in the curative petition filed in the Supreme Court by the Central government.
The survivors are demanding additional compensation for all affected people and revision of figures of death and lingering injury caused by the disaster in December 1984.
Rashida Bee, president of the Bhopal Gas Peedit Mahila Stationery Karmchari Sangh said, "In 2010 the Group of Ministers on Bhopal decided to pay additional compensation of Rs 1 lakh but left out as many as 93  per cent of the survivors without any scientific or legal basis. We are calling upon this government to correct that and pay additional compensation of Rs. 1 lakh to all those affected by the disaster."
"As per the decision, the Centre filed a Curative Petition seeking additional compensation from Union Carbide and its current owner Dow Chemical in December 2010. But the figures of death and extent of injury caused to the victims were grossly downplayed." Balkrishna Namdeo of the Bhopal Gas Peedit Nirashrit Pensionbhogee Sangharsh Morcha, said.
They also said that the government's apex research agency, the Indian Council of Medical Research, had reported that over 12,000 people died due to the disaster till 1993 but when it came to seeking compensation from the American corporations the government said that the number of dead was only 5295.
The Bhopal gas tragedy occurred on the night of 2–3 December 1984 at the Union Carbide India Limited (UCIL) pesticide plant in Bhopal. Over 500,000 people were exposed to methyl isocyanate (MIC) gas and other chemicals. The toxic substance made its way in and around the shanty towns located near the plant. It is considered the world's worst industrial disaster.