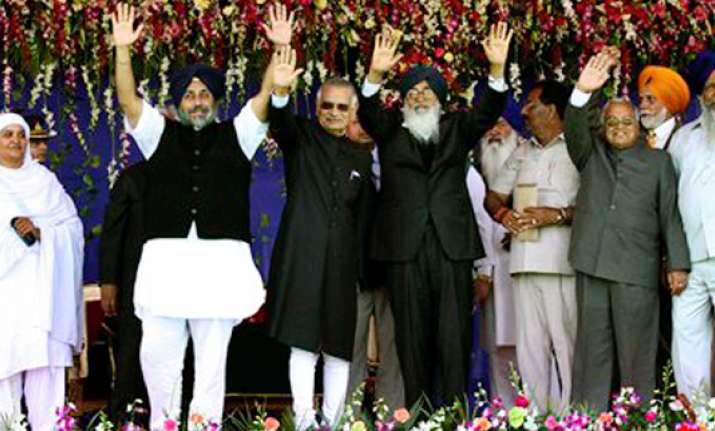 Chandigarh, Mar 15: Punjab Chief Minister Parkash Singh Badal tonight allocated porfolios to his cabinet colleagues, giving finance to one of his close aides, retaining seven ministries to himself and giving charge of an equal number of departments to his son and Deputy Chief Minister Sukhbir Singh Badal.

The departments which Badal kept with himself include Personnel, General Administration, Power, Cooperation, Science Technology and Environment, Vigilance and Employment Generation, an official release said here.

Sukhbir was allocated charge of Home, departments of Governance Reforms, Housing, Excise and Taxation, Investment Promotion, Sports and Youth Services Welfare and Civil Aviation, the release said.

Parminder Singh Dhindsa, son of Akali Dal General Secretaryand MP Sukhdev Singh Dhindsa, will be Finance and Planning Minister.

Apart from it, he has also been allocated Institutional Finance and Banking and Programme plementation.

Bhagat Chunni Lal of BJP will be Local Government minister besides being in charge of Medical Education & Research department.

Sarwan Singh Phillaur has been given charge of departments of Jails, Tourism, Cultural Affairs, Archives & Museums and Printing & Stationery.

The Chief minister's son-in-law Adesh Partap Singh Kairon has been retained as Food and Civil Supplies minister. He was also allocated the department of IT.

Ajit Singh Kohar will be incharge of Transport, Legal & Legislative Affairs and Elections.

Gulzar Singh Ranike had been allocated the departments of Animal Husbandry & Fisheries, Dairy Development and Welfare of SC & BC.

Besides being Parliamentary Affairs Minister, Madan Mohan Mittal, also of BJP, will be Health & Family Welfare and Social Security & Development of Women & Children Minister.

Janmeja Singh Sekhon had been retained as Irrigation Minister while Tota Singh will be Agriculture minister.

The only woman in the Badal cabinet Bibi Jagir Kaur was given the departments of Rural Water Supply & Sanitation, Defence Services Welfare and Removal of Grievances and Welfare of Pensioners.

Surjit Kumar Jyani will be new Forest & Wildlife and Labour minister.

Bikram Singh Majitha, brother-in-law of Sukhbir, has been allocated the departments of Revenue & Rehablitation, Information & Public Relations, Non Conventional Energy and NRI Affairs.

Sikander Singh Malooka will be Education and Higher Education & Languages minister.

Young BJP leader Anil Joshi was allocated the departments of Industry & Commerce and Technical Training & Industrial Training.

Surjit Singh Rakhra will be Rural Development & Panchayat minister whereas Sharanjit Singh Dhillon has been allocated PWD department.

Meanwhile, Punjab government has appointed Bhupinder Singh Dhillon as Political Secretary to Chief Minister Parkash Singh Badal in the rank of minister of state with immediate effect.

A spokesperson of the Chief Minister's office said Dhillon had served earlier in the same capacity during the tenure of SAD- BJP government from 1997 to 2002 and again in the last SAD-BJP Ministry.