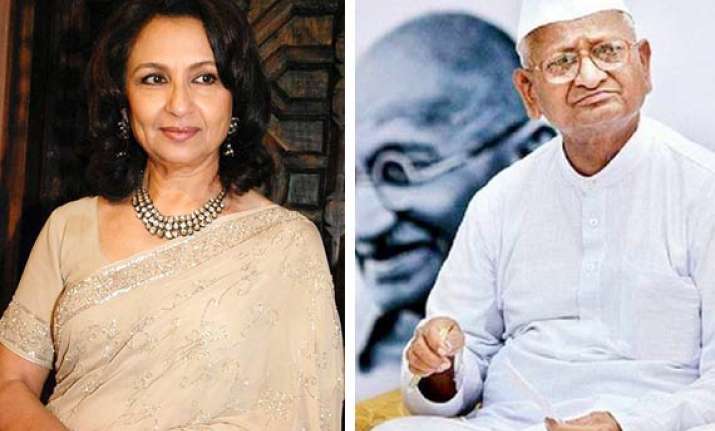 Mumbai, Apr 15: Netizens are up in arms against former Central Board of Film Certification (CBFC) chairperson  Sharmila Tagore's reported comment that  Anna Hazare's hunger strike was to blackmail the government, reports Times of India.

Reacting to Anna Hazare's fight for corruption, Sharmila Tagore  on Friday told TOI, "in a functioning democracy hunger strike tantamounts to blackmail and the government also gave in to it. I agree that corruption is a very important issue and it needs to be tackled, but not in the way it was done. There was no debate or discussion in the media too. Besides people like Baba Ramdev joining in and Anna's subsequent praising of Narendra Modi and Raj Thackeray was disturbing."

But most people don't agree with Sharmila.

Namu tweets, "If not, who would even remember they existed!'' Another tweet said, "Get more innovative in creating controversies we understand TRPs are important.''

Sunil Sharma advises her, ``please think before you say anything. If you are not able to use your mind don't say any crap.''

Jitesh Pillai said, ``As much as I'm a fan of Sharmila Tagore her offscreen shenanigans/activism is embarrassing.''

Some call her ignorant. One tweet said, "She knows nothing about history or Gandhiji supercilious."

Geethu Jayasankar said, `` if Anna's fast was a form of blackmail then Gandhiji's fast could considered as attempts to blackmail the british

Sanjeev Singhai said, `` Sharmila Tagore lives in royalty and feels Anna's fasting for cause was wrong. How she can empathize, common man's problem. She doesn't qualify.''

Ravishankar said, ``Hunger strike is not blackmail...that's the one which helped us getting independence.''

Naveen Calappurackal said, "Sharmila Tagore has no right to say about Anna's hunger stike she is just useless mouth.''

Karthik Shetty said,``Anna Hazare blackmailed govt. for Lok Pal bill. Guess in her world just saying 'please' would have gotten the job done!''

Sharmila Tagore had also said, ``People from all walks of life including the film industry got caught in the hype but I don't think a gathering of 300 people at Jantar Mantar represents the entire nation. I do agree everybody has the right to think but this act sets a wrong precedent. Tomorrow, someone else will use the same tactics to blackmail the government.''

Pritish Nandy who was also one of the celebrities who shared the platform with Anna Hazare is outraged by Sharmila Tagore's remarks.

"I am sad that Sharmila Tagore saw only 300 people at Anna Hazare's fast against corruption at Jantar Mantar. I saw and addressed thousands of people. Young students, farmers, school kids, ordinary citizen like you and me who felt they identified with his cause and his fast. I think more than 300 people were on fast there. Some on relay and Anna on fast unto death. They were not angry but celebrating because they knew victory was inevitable. Millions across  India were besides them. Anyon who had eyes to see saw them spill out on the streets all over this nation, quietly and bravely to take on the government and force them to their knees. How Sharmila saw only 300 people she alone knows. Maybe she censored the rest out,'' he said.