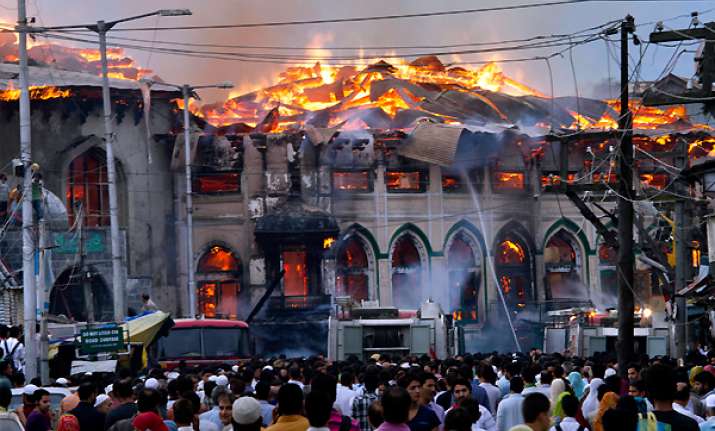 Srinagar, Jun 25:
The over 200-year-old shrine of Dastageer Sahib was today gutted in a fire at Khanyar in old city, triggering protests by locals.
An official of the Disaster Management Cell said the fire broke out in the shrine of Syed Abdul Qadir Jeelani at around 6.30 AM and engulfed the entire complex within no time.
"The shrine was made of wood ... the fire spread quickly and the complex has been gutted," the official said.
The official said the relics of the preacher, known as Ghaus-ul-Azam among the local populace and revered worldwide, are safe as these were retrieved from the fire-proof vault.
Fire tenders were rushed to the spot but the blaze spread very fast.
The cause of the fire was not immediately known but police is investigation the possibility of sabotage.
The fire in the shrine triggered protests by locals, sources said.
The sources said a group of protestors started pelting stones at fire tenders for their alleged "slow response" in controlling the fire.
The protestors later attacked the nearby Khanyar police station by pelting stones at it.
Policemen fired several rounds of tear smoke shells to disperse the protestors, they said, adding additional police personnel have been deployed in the area to bring the situation under control.
The sources said curfew-like restrictions have been imposed in Khanyar and surrounding areas to prevent the law and order situation from deteriorating further.
Local residents claimed that police had announced imposition of curfew in the area but a police spokesman denied the allegation. "Curfew has not been imposed anywhere in the city," he said.
Senior police officers were monitoring the situation.