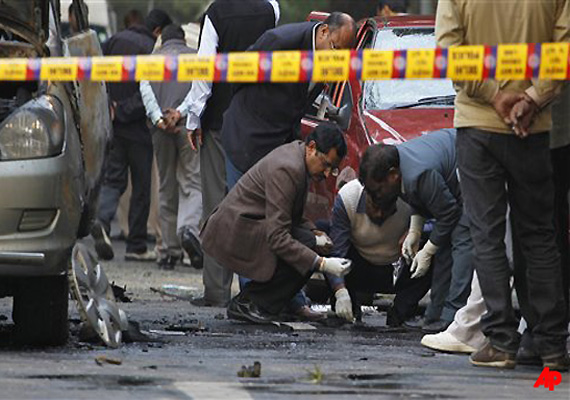 New Delhi, Feb 15: Investigators probing the explosion of a Israeli diplomat's car today said preliminary forensic examination of the blast material showed traces of potassium chlorate and nitrate.

Officials monitoring the probe said that the quantity of explosive material used in the probe was very less. 

While forensic experts were battling with the explosive material and its triggering mechanism, the officials said despite the explosion, which shattered the window panes of nearby bungalows, the metal of the vehicle was not ripped off. 

According to the preliminary forensic report of the Central Forensic Science Laboratory, traces of potassium chlorate and nitrate have been found, the officials said. 

They said the explosion was only able to create a loud noise and dent the body of the SUV and not rip it off as otherwise it could have been fatal.

The triggering mechanism was not clear as yet to the experts, they added.

An Israeli mission car carrying Administrative Attache Tail Yoshi (40), wife of a Israeli Defence Attache, was injured on February 13 when terrorists stuck a magnetic bomb to her car in high-security Aurangzeb road, barely 500 m from Prime Minister Manmohan Singh's residence.