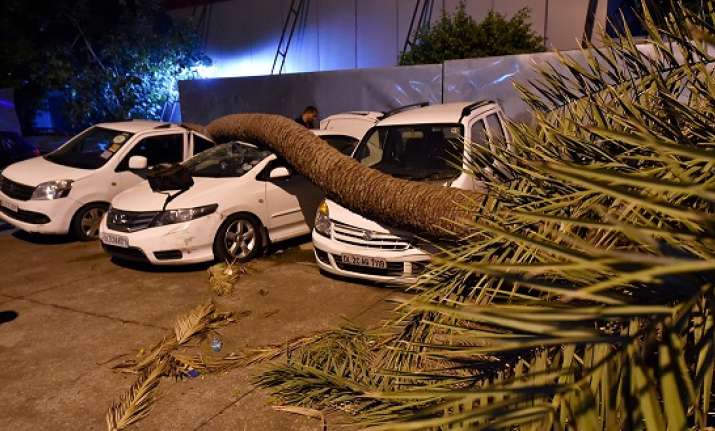 Heavy rain accompanied by gusty winds and dust storm wreaked havoc in Delhi-NCR, Uttar Pradesh, Andhra Pradesh and West Bengal, killing at least 40 people and leaving behind a trail of destruction. While 18 people lost their lives in Uttar Pradesh, 12 deaths were reported in West Bengal after lightning struck them amid heavy rains. Nine people were reported dead in Andhra Pradesh. The powerful dust storm also left one person dead in Delhi, leaving 19 injured. PM Modi expressed grief over the loss of lives and directed officials to provide all possible assistance to those affected.
"Saddened by the loss of lives due to storms in some parts of the country. Condolences to the bereaved families. I pray for the speedy recovery of those injured. Asked officials to provide all possible assistance to those affected," Modi tweeted.
In a sudden change of weather, the sky turned cloudy around 4:30 pm and gusty winds swept the city. The temperature was on Sunday recorded at 30.6 degrees Celsius. The humidity was recorded at 60 per cent at 8:30 am, a Meteorological (Met) department official said. 
Saddened by the loss of lives due to storms in some parts of the country. Condolences to the bereaved families. I pray for the speedy recovery of those injured. Asked officials to provide all possible assistance to those affected.

— Narendra Modi (@narendramodi) May 13, 2018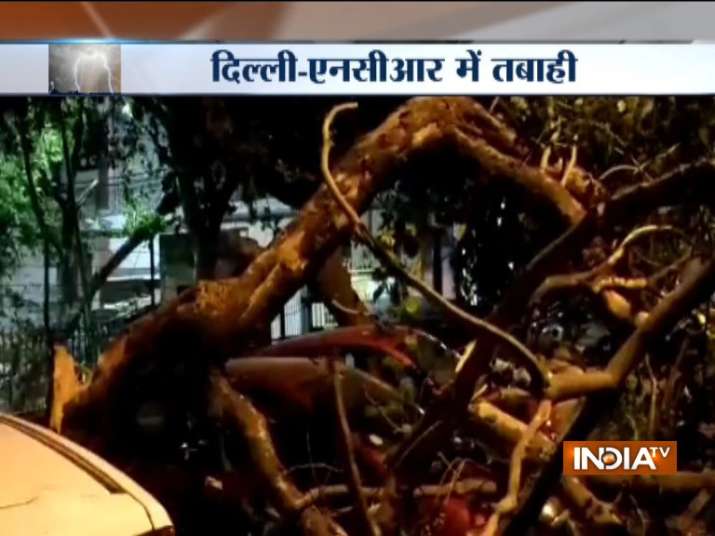 Delhi: Over 70 flights diverted, traffic hit, metro services on Blue, Violet lines affected
Flight operations to and from the Indira Gandhi International (IGI) Airport were majorly hit as the dust storm hit the city in the evening, with over 70 diversions and more than two dozen delays.
The operations of almost all the airlines -- domestic and international -- were affected as the runway had to be closed down and the flight services suspended for a while. The airlines informed the passengers about the delays and diversions on Twitter.
Dozens of flights were diverted to cities such as Jaipur, Amritsar and Lucknow, the sources said. Vistara said its Delhi-bound flights from Srinagar, Lucknow, Bhubaneswar, Mumbai and Goa were diverted. International flights from Katmandu, Riyadh, Colombo, Jeddah, Kabul were delayed even as flights from Tokyo, Newark and Colombo were diverted to other places.
Delhi Metro services were affected at several stations on the Violet and Blue lines after trees fell on overhead electricity (OHE) wires due to the squall and sudden dust storm with a wind speed of up to 109 kmph that whipped the national capital this evening. 
According to the Delhi Metro Rail Corporation (DMRC), services on the Violet Line were affected for 40 minutes as trains ran in two loops between Sarita Vihar and Escorts Mujesar, and between Nehru Place and Kashmere Gate stations from 5 pm to 5:40 pm. 
"This was necessitated due to falling of a tree on OHE wires between Okhla and Jasola stations due to the thunderstorm. The service normalised at 5:40 pm," the DMRC said in a statement. 
Similarly, train services on the Blue line between Noida Sector 16 to Noida City Centre were not available since 5:15 pm due to damage to OHE wire on down section of the Blue line (towards Noida). Services were restored at 6:50 pm, it said. 
The DMRC also said service between Inderprashtha and Karol Bagh (on the Blue line) were not available from 5.15 pm due to a tree falling on the overhead electricity (OHE) wires of the up section of the line (towards Dwarka) between Rajiv Chowk and RK Ashram. 
Normal services on this section was restored at 7:37 pm, it said. 
Now, train services on all lines of the Delhi metro are running as per normal schedule after repair of overhead electricity (OHE) wires. There is no problem anywhere in the network, the DMRC said in the statement.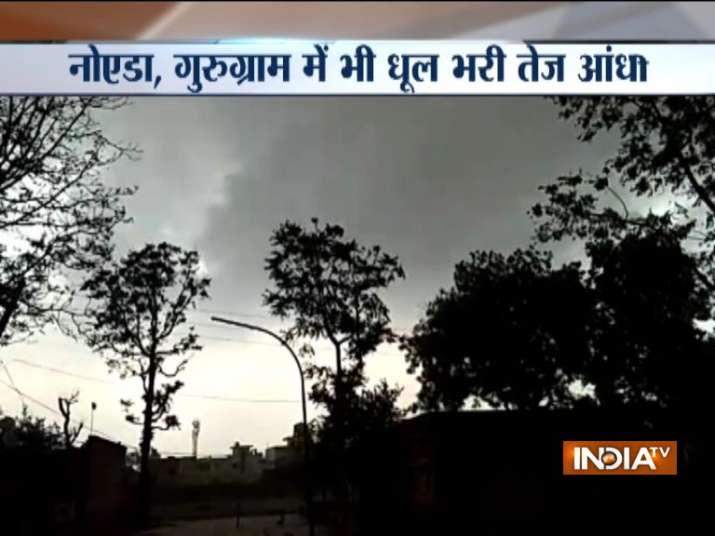 18 people killed in Uttar Pradesh in power dust storms, rain
At least 18 people were killed and 28 injured in hail and thunderstorm that hit different parts of Uttar Pradesh. Five deaths have been reported from Kasganj, three from Bulandshahr and two each from Ghaziabad and Saharanpur. Apart from this, one death each has been reported from Etawah, Aligarh, Kannauj, Hapur, Noida and Sambhal, Principal Secretary (Information) Awanish Awasthi said. 
At least 28 people were injured and around 37 houses were damaged in the hail and thunderstorm, he said.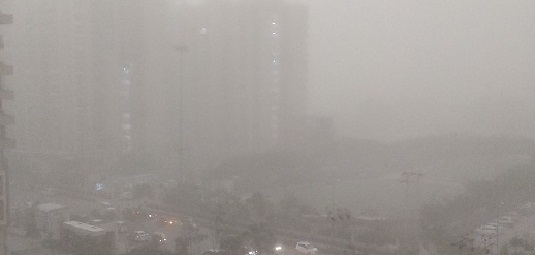 "Chief Minister Yogi Adityanath has directed all district magistrates and commissioners to provide immediate relief (to the affected people) and ensure that the injured are provided medical care immediately," Awasthi said. 
In the evening, the state government had warned that hail thunderstorm, with winds speed of up to 70 km per hour, accompanied with squall and rain are very likely in parts of Badaun, Bareilly, Pilibhit, Lakhimpur, Shajhanpur, Sitpur, Hardoi, Lucknow, Barabanki, Raebareli, Sultanpur, Faizabad, Jaunpur, Azamgarh, Allahabad, Mirzapur, Sant Ravidas Nagar districts. 
12 killed in West Bengal as lightning strikes with rain
At least 12 people, including four children, were killed and over 15 injured in different districts of West Bengal, after lightning struck them amid heavy rains today, an official of the state disaster management department said. Five deaths were reported from Howrah district's Uluberia sub-division, while there were two deaths each in Paschim Midnapore, North 24 Parganas and Nadia districts, and one in Murshidabad district, he said. A person in Howrah district suffered serious injuries and was undergoing treatment at a local hospital, the official said. 
According to Murshidabad district police, Shankar Mondal (50) was working at a field in Jalangi area of the district, when he was killed in a lightning strike. In Howrah district, among the five dead, four children, aged between 8 and 12 years, were in a field collecting mangoes during a thunderstorm when lightning hit them in Bordanga under Uluberia police station, a police officer said. The boys were taken to a local hospital where they were declared brought dead, he said. 
Meanwhile, Chief Minister Mamata Banerjee said her government would provide assistance to the families of the deceased, as well as those whose houses and crops have been damaged. 
"We do not have control over nature. We will not be able to bring back those who have died, but our government will be beside these families and help them in every possible manner," she said.
Reiterating that the model code of conduct ahead of tomorrow's panchayat elections in the state was not applicable in case of a disaster, she said the chief secretary has been asked to carry out a survey of the losses. 
"We are yet to ascertain the estimate of the damages. We will do a survey based on which we will help the families," Banerjee said.
Lightning kills 9 in Telangana, Andhra
​
Nine people including three farmers died of lightning in Telangana and Andhra Pradesh on Sunday, officials said. The three farmers died of lightning in Telangana's Mancherial district early in the day while six deaths were reported from Srikakulam district in north coastal Andhra.
The farmers were killed in their field in Arepalli village. According to police, the farmers had gone to their fields to protect the paddy from rains. The deceased have been identified as R. Rajaiah, K. Bapu and J. Ramesh.
The farmers were trying to place covers on the paddy kept in the field after cutting but did not succeed due to strong winds and rains. In the meantime, they were struck by lightning.When they did not return home, their family members went to the field and found their bodies.
Meanwhile, six persons died of lightning in separate incidents in Andhra Pradesh's Srikakulam district. Heavy rains accompanied by gusty winds have been lashing Srikakulam, Vizianagaram and Visakhapatnam districts since early Sunday.
Telangana and Andhra Pradesh have been experiencing thunderstorm and unseasonal rains for more than a week.
The Met office has forecast thunderstorm accompanied with gusty winds at isolated places in various districts of Telangana and coastal Andhra on Sunday and Monday. Some parts of the two states are likely to record maximum temperature between 42 and 44 degrees Celsius.
What does MeT prediction say?
Charan Singh, scientist at Indian Meteorological Department, told news agency ANI: There is a circulation of a western disturbance in North-west India. We had predicted that the weather will remain adverse for two-three days. This thunderstorm will continue for the next 48 to 72 hours.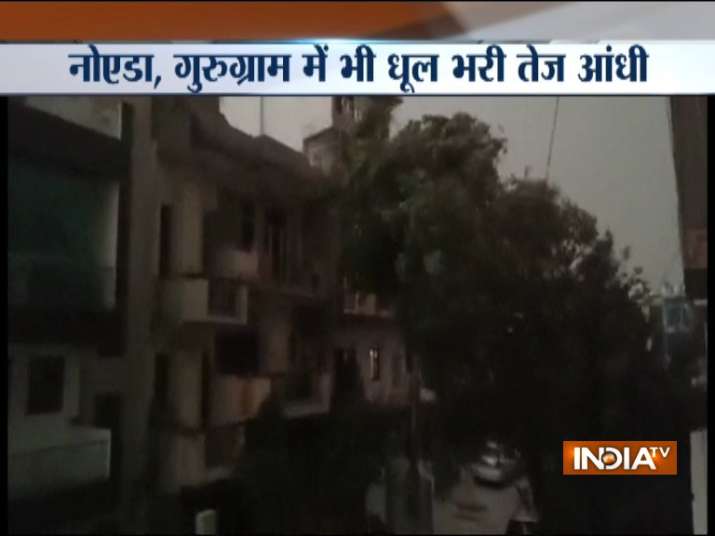 Thunderstorm and dust storm with winds speeds of up to 70 km per hour are "very likely" on Monday in 26 districts of Uttar Pradesh, the weather office warned. It said the districts that could be affected are Bahraich, Shrawasti, Balrampur, Gonda, Siddharth Nagar, Maharajganj, Kushinagar, Gorakhpur, Sant Kabir Nagar, Basti, Faizabad, Sultanpur, Azamgargh and Ambedkar Nagar.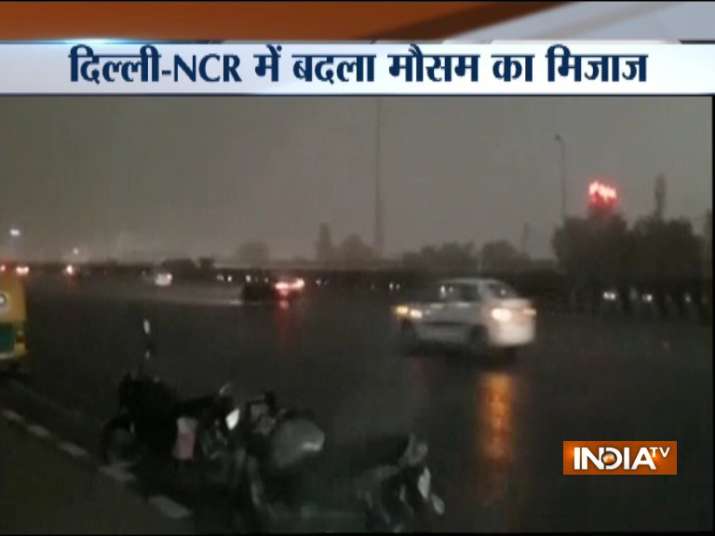 The other districts are Mau, Deoria, Ballia, Ghazipur, Jaunpur, Pratapgargh, Allahabad, Sant Ravidas Nagar, Varanasi, Chandauli, Mirzapur and Sonbhadra, it said. The meteorological office also forecast rain in isolated parts of east Uttar Pradesh and said the weather is most likely to remain dry in west UP.
On May 9, several parts of the state were hit by a severe storm that left 18 dead and 27 others injured. Five people died in Etawah district, three each in Mathura, Aligarh and Agra, two in Firozabad and one each in Hathras and Kanpur Dehat. Thunderstorms and lightning on May 2-3 killed 134 people and injured over 400 in UP, Rajasthan, Telangana, Utttarakhand and Punjab. UP was the worst affected, accounting for 80 deaths, most of them in Agra district in the western part of the state.
WATCH FULL VIDEO: