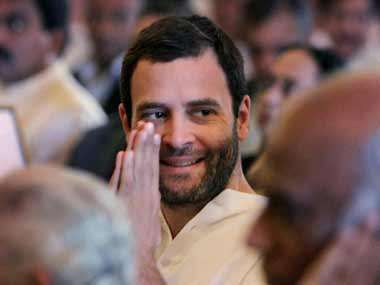 The row over Congress president Rahul Gandhi's reported statement that his party is for Muslims is set to cast its shadow over Parliament's Monsoon Session as both the BJP and the Opposition look to set the tone for some key state polls before the next Lok Sabha elections in less than 10 months. 
If the BJP would like to push the issue into political centre stage, opposition parties, which are seen to be closing ranks to take on the ruling NDA, would target the government over its alleged failures on economic front, nationwide cases of lynching, political crisis in Kashmir and price rise. 
Many believe that the upcoming session may turn out to be as tumultuous as the preceding Budget Session, which was a virtual washout with key legislations, including the Finance Bill, passed without any debate due to continuous ruckus. 
Catch all the latest news about Indian politics HERE
The BJP has seized on Gandhi's remarks allegedly made in a meeting with Muslim intellectuals to accuse the Congress of "Muslim appeasement", even as the opposition party has denied that he ever made these comments and accused Prime Minister Narendra Modi of pursuing divisive agenda to win elections after his governance "failure". 
BJP leaders believe that a political narrative imbued with its Hindutva agenda will suit the party as it battles anti-incumbency in poll-bound states of Rajasthan, Madhya Pradesh and Chhattisgarh and gears up for the next Lok Sabha elections 2019. 
The government is keen to push politically significant legislations like triple talaq bill that criminalises instant divorce pronounced by Muslim men and also the OBC bill that seeks constitutional status for a commission meant for backward classes, a massive voting bloc being wooed by the saffron party. 
Catch all the latest news about Lok Sabha elections 2019 HERE
Andhra Pradesh parties, the TDP and the YSR Congress, are likely to push for no-confidence motions against the government for denying the state special category status. Their motions were not taken up in the last session as the Speaker said the Lok Sabha was not in order. 
Farm issues are also likely to figure among the key issues with the BJP set to cite the government's move to raise MSP for several crops as a proof of its pro-farmers credentials while the opposition looking to corner it over alleged farm distress.
AAP is also ready to air its issues.
"In the all party meet chaired by PM, I raised the point of Delhi Govt being not allowed to work. After hearing everyone's issues PM said all issues will be addressed on the floor of the house in monsoon session," said Sanjay Singh, AAP MP.
Meanwhile, before the monsoon session Union Minister Ananth Kumar said, "All party meeting was positive, all parties promised support for smooth functioning of the house."
(With inputs from agencies)