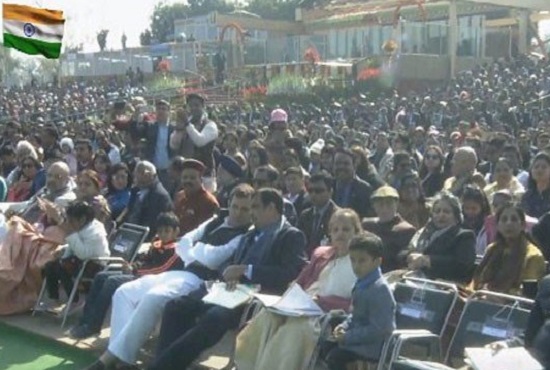 While the country was witnessing India's military might at the Republic Day parade, a rare "bonhomie" was also on display at the Rajpath. Union Minister Nitin Gadkari was seen chatting with Congress President Rahul Gandhi during the 70th Republic Day celebrations in New Delhi on Saturday.
Gandhi and Gadkari were seen chatting and smiling while watching the grand parade, which is a rare scene in the political circles, more so because of the political affiliations of the two leaders. 
Incidentally, Gandhi's seating arrangement in previous year's parade had created a controversy after he was allotted a seat in the sixth row. The Congress then had accused the Narendra Modi government of indulging in "cheap politics".
A former Bharatiya Janata Party (BJP) President, Gadkari had recently created a buzz with his remarks saying that the party leadership should own up to the defeat and failures, following the losses in the Assembly polls in Rajasthan, Madhya Pradesh and Chhattisgarh. However, Gadkari claimed he was being "misinterpreted" and "misquoted".
WATCH VIDEO OF REPUBLIC DAY PARADE:
(With IANS inputs)