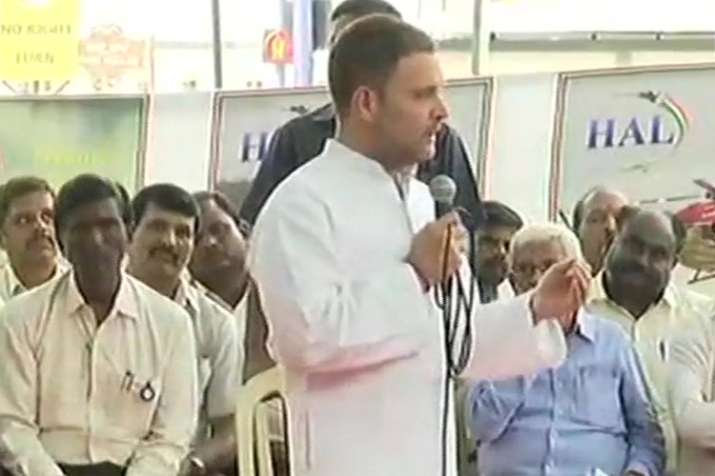 Continuing his effort to corner the Modi government over the Rafale fighter jet deal with France, Congress president Rahul Gandhi on Saturday met present and former employees of Hindustan Aeronautics Limited (HAL) in Bengaluru. 
Interacting with HAL employees, Rahul Gandhi described the defence PSU a 'strategic asset' in aerospace and said that the country owed a debt to it. 
"HAL is a strategic asset in aerospace, not an ordinary or regular company," Rahul Gandhi said at the event organised at Minsk Square near the HAL head quarters.
HAL is not just a company, when India got independence, India built some strategic assets to enter specific areas, HAL is a strategic asset to take India into aerospace. The work you have done for this country is tremendous&the country owes a debt to you:Rahul Gandhi in Bengaluru pic.twitter.com/HEm7e8pgRt

— ANI (@ANI) October 13, 2018
Raising the issue of Rafale deal, Rahul Gandi claimed that defence deal with France was covered in corruption.
"Rafale is your right. You have the experience to build the plane I am not implying. I am saying that corruption and kickbacks have taken place," he said.
"Temples of modern India are being attacked and destroyed. We cannot allow it," Rahul Gandhi added.
The Congress chief's interaction is part of his onslaught against the Modi government over the Rafale deal in which he alleges HAL had been overlooked in the offsets contracts with French aerospace company Dassault Aviation preferring Anil Ambani's company.
The Congress, which has been accusing the government of benefiting the Reliance Defence Ltd of Anil Ambani from the deal, has also been demanding answers on why the state-run aerospace major HAL was not involved in the deal as finalised during the UPA.
The party had been accusing Prime Minister Narendra Modi of snatching jobs of people of Karnataka by taking away the contract from HAL.
Gandhi had been saying that had HAL been selected in place of Reliance Defence it could have generated employment to scores of unemployed youth in the state.
However, the BJP and Reliance Defence have dismissed all the allegations as false.
Modi had announced the procurement of 36 Rafale fighters after holding talks with then French President Francois Hollande on April 10, 2015, in Paris.
WATCH: Rahul Gandhi meets HAL employees
(With inputs from PTI)