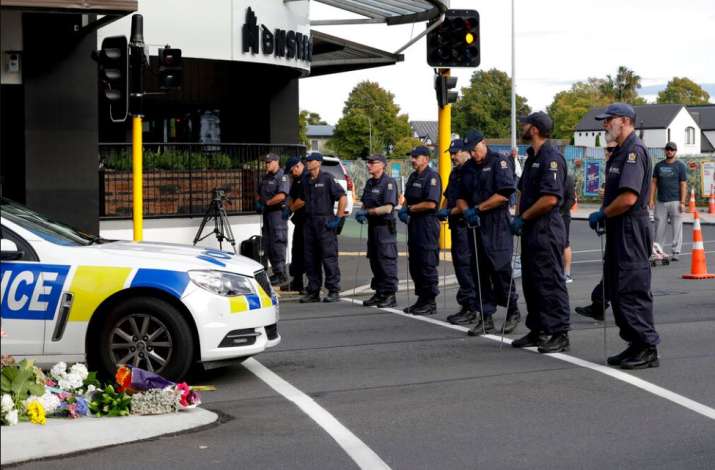 In the deadliest incident of violence in New Zealand in over seven decades, at least 49 people were killed and and 48 others, including an Indian, injured when at least two gunmen, said to be right-wing extremists, opened indiscriminate fire during Friday prayers at two mosques in Christchurch city. Nine Indian nationals or persons of Indian origin were among the missing.
The Bangladesh cricket team touring New Zealand had a narrow escape as the entire team had gone to one of the mosques near Hagley Park for Friday prayers.
Bangladesh Cricket Board spokesman Jalal Yunus said the team was about to go inside when the killings began. The New Zealand-Bangladesh third Test match set to be played in Christchurch was axed.
In this moment of grief, India stands in solidarity with the people and Government of New Zealand @winstonpeters /2

— Sushma Swaraj (@SushmaSwaraj) March 15, 2019
Any Indian requiring assistance should contact Indian High Commission in New Zealand on 021803899 or 021850033. @IndiainNZ @WIAWellington @kohli_sanjiv

— Sushma Swaraj (@SushmaSwaraj) March 15, 2019
The attacks evoked condemnation from across the world and a call to counter Islamophobia and hate crimes. It was the first attack on a mosque in the "Western World" since the attack in Canada's Quebec in January 2017 in which six worshippers were killed and 19 others injured. 
Prime Minister Jacinda Ardern said Friday was "one of New Zealand's darkest days". Calling the shootings "abhorrent", Christchurch Police Commissioner Mike Bush said 41 people were killed at the Al Noor Mosque near Hagley Park and seven at the Linwood Avenue Mosque. 
One person died in hospital, The New Zealand Herald reported. 
Aligarh Muslim University Students' Union (AMUSU) took out a candle march in the university campus to pay tribute to the people who lost their lives in the #Christchurch terror attack in New Zealand. (15/3/19) pic.twitter.com/BUJrEcTPv7

— ANI UP (@ANINewsUP) March 16, 2019
Reuters: Suspect in #Christchurch shooting identified in court as Brenton Harrison Tarrant, was charged with murder. He has been remanded without plea until his next appearance in the High Court on April 5. #NewZealand

— ANI (@ANI) March 15, 2019
This was the most fatal incident in New Zealand since the 1943 riot at a prisoner of war camp left 48 Japanese captives and one New Zealander dead. The last incident of terror in New Zealand was an attempted hijacking by a Somali women in 2010 that was foiled by the pilots, while the last incident leading to loss of life was the 1985 bombing of Greenpeace ship Rainbow Warrior by French secret agents that left an activist dead. 
Nine people of Indian nationality or origin were missing after Friday's massacre, High Commissioner Sanjiv Kohli said.
Ahmed Jehangir, a man from Hyderabad, was among those shot at in the horrific massacre. He was injured and taken to hospital, his brother Khursheed Iqbal Jehangir said.
What has happened in Christchurch is an extraordinary act of unprecedented violence. It has no place in New Zealand. Many of those affected will be members of our migrant communities – New Zealand is their home – they are us.

— Jacinda Ardern (@jacindaardern) March 15, 2019
Ahmed, settled in New Zealand for 15 years, runs a Hyderabadi food restaurant near Al Noor Mosque. 
Another man from Hyderabad was also reported missing. Farhaj Ahsan had gone to the same mosque for prayers and was listed missing after the attack. His family is worried over Farhaj's well-being.
Witnesses said there were around 400 people in the Al Noor Mosque at the time of the attack and they ran for their lives after hearing gunshots. Around 100 were there in Linwood Avenue Mosque. 
The #NewZealandShooting is a despicable act of terrorism, that must be condemned unequivocally. The world stands in need of compassion & understanding. Not bigotry & hate filled extremism. My condolences to the families of the victims. My prayers go out to those who were injured.

— Rahul Gandhi (@RahulGandhi) March 15, 2019
A man in his late 20s was charged with murder and will appear in court on Saturday morning, the police said. Two other men and one woman were detained and firearms and explosive devices were recovered.
Bush said one of those detained was later released, while officers were working to determine if the other two were involved.
The police did not name any of the suspects, but a man identifying himself as Brenton Tarrant, a 28-year-old born in Australia, livestreamed a 17-minute footage on Facebook showing him driving to a mosque, entering and shooting randomly at people inside.
He also posted a manifesto online before the attacks, in which he espoused far-right and anti-immigrant ideology.
Australian Prime Minister Scott Morrison described the suspected attacker as an "extremist right-wing violent terrorist".
The New Zealand Premier condemned the ideology of the killers, saying: "You may have chosen us but we utterly reject and condemn you." None of the suspects was on terrorism watchlists.
Hassan, 29, a Sri Lankan Muslim who has lived in New Zealand for six months, said he came to the country for its "peace, and because there are no wars". 
At the Linwood mosque when the shooting began, he said, "The shooter was screaming a lot and waving the gun in every direction, shooting, shooting, shooting." 
"I don't know who of my friends is dead or alive now. I am waiting. The police told me: 'I am sorry, this is the first time this has ever happened in this country.'"
BBC quoted other witnesses as saying that they ran for their lives and saw people bleeding on the ground outside the Al Noor Mosque. The gunman targeted the men's prayer room in the mosque and then moved to the women's room.
The government advised people not to go to mosques until further notice. All schools were shut down. 
Appeals were also made not to share the footage of the attacks and social media sites like Facebook and Twitter were removing them.
One man, Robert Weatherhead, told Newstalk that he took in people who escaped from the Al Noor mosque. He described the gunman as "white, aged in his 30s or 40s and wearing a uniform".
UN Secretary General Antonio Guterres, US President Donald Trump, his predecessor Barack Obama, British Prime Minister Theresa May, French President Emmanuel Macron, Pope Francis, Canadian Prime Minister Justin Trudeau, Indian Prime Minister Narendra Modi and other leaders sent their messages of support to New Zealand.
Organization of Islamic Cooperation Secretary General Yousef bin Ahmad Al-Othaimeen said: "The brutal crime had shocked and hurt the feelings of all Muslims around the world and served as a further warning on the obvious dangers of hate, intolerance, and Islamophobia."
Security was scaled up at mosques in Europe and America. Muslims, mostly refugees taken in Wellington, comprise just over 1 per cent of New Zealand's 4.2 million people.
Meanwhile, five Pakistani nationals were also missing and four others injured after Friday's attacks on two mosques in New Zealand, the Foreign Office said.
"Identities are being authenticated in consultation with local authorities," FO spokesman Dr Mohammad Faisal tweeted.
Five Pakistanis are missing, while four were injured and "being treated in hospitals" in the shootings, he said. 
Faisal said Pakistan High Commission in New Zealand was in touch with the authorities concerned in New Zealand to obtain further details.
Condemning the "heinous terrorist attack", the FO spokesperson in a statement said Pakistan viewed this terrorist attack as an assault on the values of freedom of conscience and association common to all mankind.
WATCH VIDEO:
(With inputs from agencies)