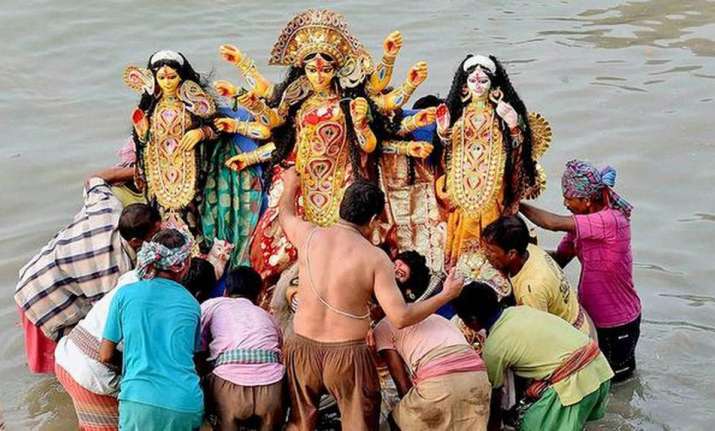 The Calcutta High Court on Thursday allowed immersion of Durga idols on all days from Vijayadashami on September 30, including on Muharram, and directed the West Bengal government to make necessary security arrangements. A division bench comprising Acting Chief Justice Rakesh Tiwari and Justice Harish Tandon asked the state government to chalk out designated routes for immersion and tazia processions. 
It said that immersion of Durga idols would be held on all days from Vijayadashami on September 30 according to the Hindu almanac, including that on Muharram on October one when such processions were prohibited by the state administration. The bench also directed the state government to put out advertisements giving information about the routes and also for ensuring amity and harmony between the communities. It declined a plea of the Trinamool Congress government for a stay on the order. 
AS IT HAPPENED:
2:40 pm: The high court has instructed the government to make separate routes for both Durga idol immersion and Muharram processions.
2:35 pm: The Calcutta High Court revokes Bengal government's idol immersion order.
1:07 pm: The Calcutta High Court has been adjourned till 2pm.
1:05 pm: Acting Chief Justice of Calcutta HC tells state government, 'there is a difference between regulation and prohibition.'
12:50 pm: You are exercising extreme power without any basis, Calcutta High Court tells state government.
12:43 pm: You are a welfare state, you can't say one can other can't, judge tells Mamata government.
12:30 pm: On Wednesday, the high court slammed the Trinamool Congress chief for creating communal distinction between two communities. "When you are firm there is communal harmony in the state, why are you creating communal distinction between the two. Why can't two communities celebrate together?" the court had said.
12:10 pm: The court even questioned on what basis the state was imposing restriction and regulation on the immersion.
11:35 am: The development comes days after the Trinamool Congress government in West Bengal issued a notification that barred immersions of idols on September 30 and on October 1 on account of Muharram.  It had, however, said that the immersions will continue from October 2. She had even directed the police not to allow 'sashtra pujan' (weapon worship) during Vijaya Dashami in the state.
11:20 am: The West Bengal chief minister had, earlier this week, even warned right-wing organisations RSS, Bajrang Dal and VHP against disturbing peace in the state during the upcoming Durga puja festival.