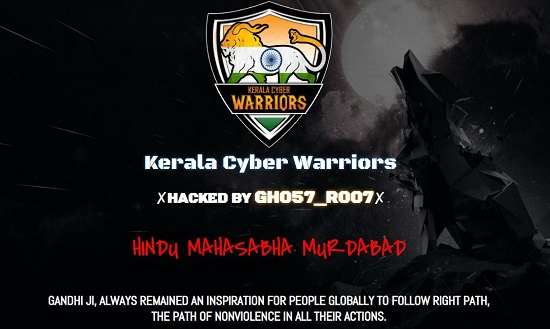 Day after members of Hindu outfit Akhil Bharatiya Hindu Mahasabha were caught on camera carrying out a reenactment of Mahatma Gandhi's assassination, the outfit's website is reported to be hacked. 
According to a message posted by the hackers, Hindu Mahasabha website abhm.org.in was hacked today by one "GH057_R007", who is allegedly a member of the 'Kerala Cyber Warriors'.
The home page of the hacked website shows the text "Hindu Mahasabha Murdabad" with a photo of the right-wing group's general secretary Puja Shakun Pandey, recreating the assassination by shooting Gandhi's effigy with an air pistol. The video had gone viral yesterday.
According to reports, two ABHM members were taken into custody and nine were charged after the video surfaced, in which they also garlanded Gandhi's killer Nathuram Godse. An FIR was lodged against Puja and four unidentified persons at Gandhi Park police station on Wednesday.