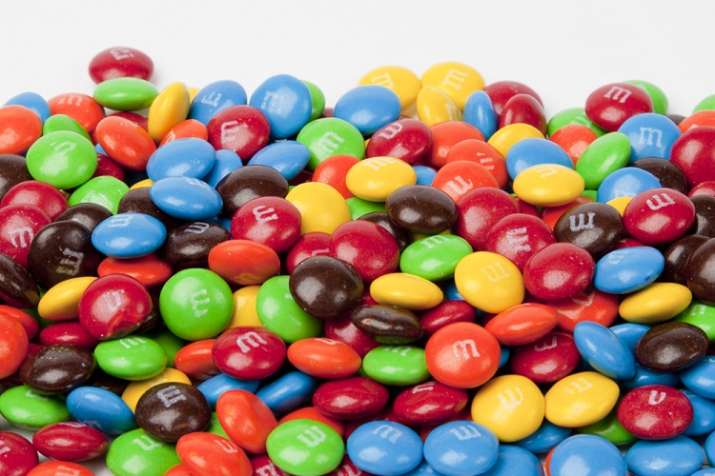 M&M's- the colourful, delicious and irresistible chocolate candies, are making a Bollywood-style entry in India. So, No more pleading to your friend going abroad to get a packet of M&M's for you. You can enjoy these mouth-watering candies in your own country and get them from your nearest supermarket. Yesterday morning, M&M's took Maximum City by storm by making a grand entry in India. Mr. Red and Mr. Yellow scootered their way down the iconic Gateway of India in pure Bollywood style, channelling their Jai and Veeru from Sholay. 
Also Read: Love to eat chocolates? It's good for your health
M&M's is all about its iconic characters and their witty humour – and that's precisely why, Mr. Red and Mr. Yellow represent all that is smart and witty, innocent and simple in the world of M&M's ®. 
Globally known for their camaraderie and friendly banter, the Red and Yellow M&M's® were in Mumbai to share happiness and spread joy in their unique style! This explains their fun spin on everyone's favorite film – posing at the picturesque Gateway of India. What's more? They were even spotted carrying some Bollywood inspired goodie boxes to a wide section of chocolate lovers!
Also Read: Rs 17 lakh for a dessert? This NY restaurant sells the world's most expensive desserts and you won't believe what they put in it
Announcing the launch, Andrew Leakey, General Manager, India & Indian Sub-Continent, Mars Chocolate Ltd., said, "India is a priority market for Mars Incorporated and we are committed to bring our best loved brands to Indian consumers. Globally our brands are loved for their quality, great taste and the value they deliver. Our product portfolio, in India reflects the same promise while offering our consumers the power to make informed choices. With the launch of M&M's® in India, our aim is to grow the nascent bite-size category in the market. Across the world, for more than 70 years, M&M's® have been a favorite brand. We are confident that its uniqueness will win the hearts of consumers in India and will encourage them to enjoy and share M&M's® for everyday occasions."
M&M's, as we know them "melt in your mouth and not in your hands", and now they are here to add zing in your life and brighten up your day. Now available in India in two variants – Chocolate and Peanut, M&M's® will come in two shareable sizes of 45 gm pack and 100 gm pack, priced at INR 80 and INR 150 respectively. Isn't it a fair deal? So, what are you waiting for? Grab your own pack of M&M's and don't forget to share it with your friends! 
For more lifestyle news, follow our Facebook page