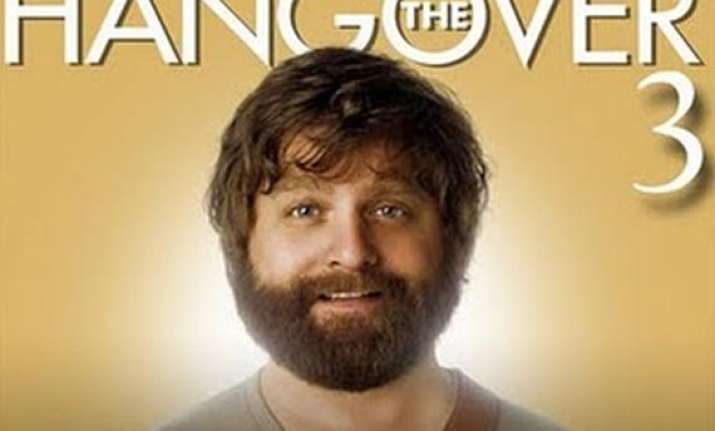 You recall 2009, when Hangover franchisee kicked off with a flying start and becoming an overnight hit. Thereafter in 2011, Hangover sunk badly like anything with the second instalment.
The question was: will it be thid time lucky and able to recover the loss it made out of the lazy attempt in 2011. Well, to be honest, director Todd Phillips is back with the hilarious franchisee ever.
Though it's nowhere near the 2009 classic but is surely better than the second part.
Phil (Bradley Cooper), Doug (Justin Bartha) and Stu (Ed Helms), reprising their roles from the prequels, drivetheir best friend Alan (Zach Galifianakis) to Arizona for his medical treatment but in the midst of all this, they get trapped in a kidnapping incident that includes  drug lord Marshall (John Goodman).
This entire  chaos takes them to the hilly part of  northern Mexico and finally to Las Vegas where it all began four years back.
Director Todd is very well aware about the basic thing that he missed out  in the prequel. The unnecessary  aughter, animal's drugging made the flick overbearing. Todd spares  us this time with the torturing tactics and sticks to the real Hangover giving some genuine reasons to laugh.
Though you find a bit unfair at some places like an animal's repeated death which is accomplished with crooked CGI giraffe, there is an over-reliance on xenophobic gags and a barrage of bullets.
Mr Chow (Ken Jeong) is once again introduced as a missing don for whom Phil, Stu and the yet again sidelined Doug shortchanged goes haywire.
The director adheres to the regular trilogy closing mantra of referencing the first film and revealing characters and events relevant to those escapades.
An opening Shawshank Redemption / Fugitive aping prison escape, motorway wreck, rooftop descents adds the maximum laughter as it can.
Las Vegas once again serves as the location for some rare moments of heartfelt emotion.
Melissa McCarthy comes as a scene-stealer in the flick, as the pawn-shop clerk who turns out to be Alan's trashy, mulleted soul mate.
They all also meet Stu's first wife and ex-stripper Jade (Heather Graham), who is married to a doctor and living a happy housing life with her son who has now turned four.
But the one who rules all over again is Zach Galifianakis who was the winner in the earlier two instalments too.
Zach gets the maximum screen space and he deserves that. His man child acts deliver the biggest laughs. He fades out Cooper and Helms' characters and shines with his lonely and penury portrayal.
Cooper and Helms seemsto just work   like supporting actors in the flick.
Jeong gets some more time to explore his role and as he was violent in his appearance in the first flick.
The Hangover 3 is a comeback flick for the franchisee and sadly the epic finale for the drama too. It will tickle your funny bones with some genuine laughs.