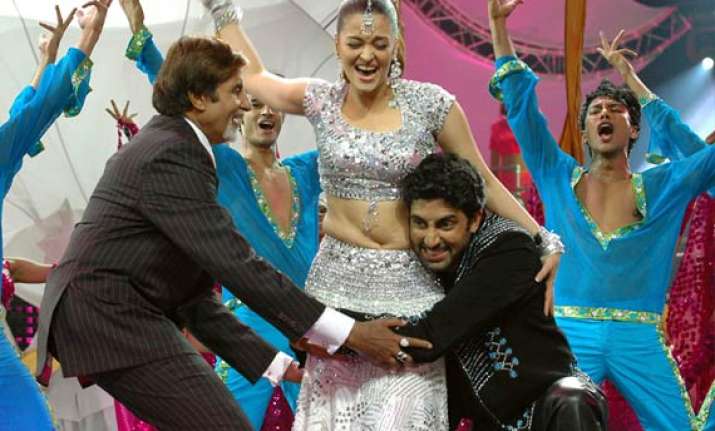 Bollywood legend Amitabh Bachchan  has said that his family is expecting Aishwarya's baby sometime in November, reports Bombay Times.
 
When BT prodded him about whether pregnancy clauses should be included in film contracts, an issue that came up for much debate when Aishwarya walked out of Madhur Bhandarkar's film Heroine after it was confirmed that she was expecting, he said, "It is a fact that each artist and director needs to face, but if the director or producer will put a no-pregnancy clause during the course of shooting, or prevent an actor from getting married, then they should also stipulate the time period within which they will finish the film."

In Aarakshan, Amitabh plays an idealistic man who runs a college and doesn't take things lying down when the issue of commercialization of education in the form of reservations looms large over the institution.
 
"It is true that coaching institutes rake in about  Rs 40,000 crore in one year. That's how commercial education has become," said the actor.

He adds that  India will be a better place if people are not judged by caste, but their names are often dead giveaways.
 
 "I'll be glad if people have names by which you can't gauge their castes. I am proud to be a carrier of one such name," he said, "My mother is a Sikh and my father is from Uttar Pradesh. When the time came to admit me into school, my father enrolled me as a Bachchan, instead of using the family name Srivastava."

When asked whether he was apprehensive of being part of a controversial film that has sparked protests across India, Amitabh said, "Reservation has become a part of our lives and has affected a great many people in different ways. I heard about the role around seven years ago, and when Prakash Jha called me up, I just couldn't turn it down."

Amitabh also reunites with old co-star Hema Malini, who has a cameo in the film. "It was like old times with Hema and it was wonderful to be with her. She just visited the sets for one day," he said.

Up next, Amitabh will be seen in a special appearance in Ram Gopal Varma's next, Department.
 
Why has he chosen to appear in a film made by a director who has delivered a string of flops in the last two years? "Success and failure come to everybody. This has never been my criterion while selecting films," said the actor.

The Big B is also set to star in another movie with Abhishek. "The film is still in the scripting stage and will be directed by Amit Sharma, who is from the ad world and has directed all of Abhishek's cellular ads. We quite liked his body of work and decided to bring him on board," said Amitabh.