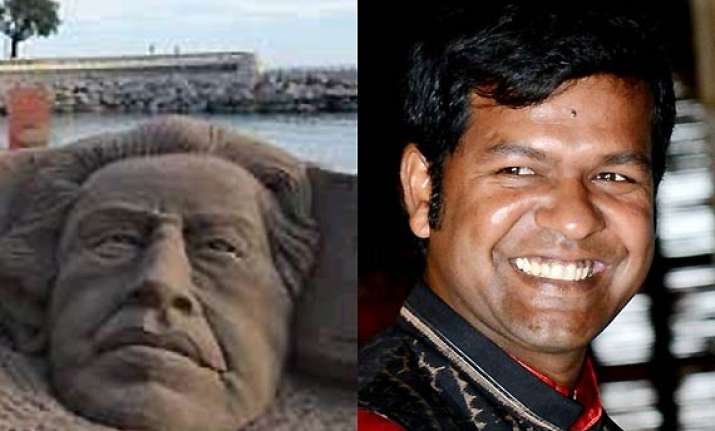 Bhubaneswar: Sand artist Sudarsan Pattnaik has created a sand sculpture of legendary film maker-writer Satyajit Ray on a beach in Cannes during the 11-day International Cannes Film Festival, which began Thursday.
Pattnaik, with the help of his student Bulu Mohanty, created the six-foot sculpture on beach Zamenhof, Canto Port, Cannes. It was inaugurated by India's Ambassador in France, Pattnaik told IANS over phone from France.
"Movie maker Ramesh Sippy and actor Kamal Haasan were among many other eminent personalities present on the occasion," he said.
Pattnaik said he used five tonnes of sand to create a long movie reel on the face of the legendary writer. He also created a six feet tall Taj Mahal with 'Incredible India' message.
"This event is supported by India Tourism Paris and Air India. I am very happy to come to Cannes for this festival. So, I decide to give my tribute to my legendary writer," he said.
Pattnaik, a native of Odisha's Puri town, has been conferred this year with the Padma Shri award, the fourth highest civilian award in India.
He has participated in more than 50 international sand sculpture championships and festivals across the world and has won many prizes.