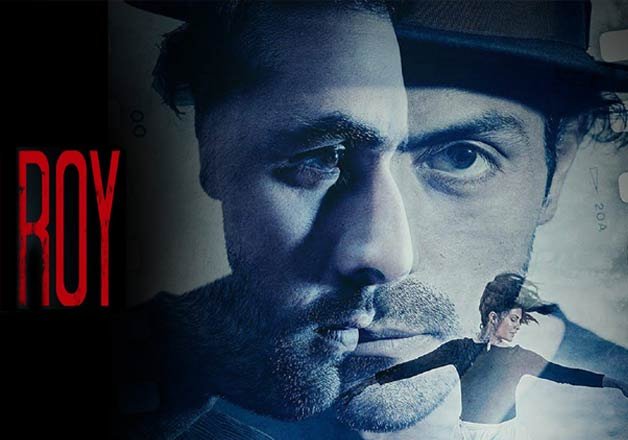 First thing first, Roy isn't an easy flick to grasp and it demands your intelligence to solve the puzzle in the end. 
Debutant Vikramjit Singh brings in a fresh tale uninspired from any other flick and delivers it with a strong cast, which everyone has been talking about ever since its conceptualization. 
Filmmaker Kabir (Arjun Rampal) is enjoying the super success of his two flicks inspired by the real life of a con Roy (Ranbir Kapoor) who never got caught. Now Kabir is geared up for the third part of the con series and chooses Malaysia as its shooting destination. Here he meets Ayesha Aamir (Jacqueline Fernandez), another filmmaker who is from London. Romance blooms between the two but due to Kabir's conning approach for writing his flick's story Ayesha leaves him. Following this Kabir loses his confidence in writing. So, will Ayesha return to Kabir? And what it Roy's story all about?
Ratings- ***
Stars- Ranbir Kapoor, Arjun Rampal and Jacqueline Fernandez
Director- Vikramjit Singh
Music director- Ankit Tiwari, Amaal Mallik, Meet Bros Anjjan
Arjun Rampal plays a maverick filmmaker Kabir with zeal. He is flamboyant director who has dated 22 girls and for that he carries that flirtatious attitude with him. He presents the tension which a filmmaker faces when his flick isn't able to take off at box office. The raw expressions have been his USP and undoubtedly he carries it throughout.
Ranbir Kapoor as Roy is at ease. He is cool and calm and never unnecessarily shows his vigorous side unless required. There is an action sequence featuring him, however, was not required but he excels in it. He speaks from his eyes and utter lesser dialogues to convey. Although, he has limited scenes or rather say has an extended cameo appearance. We wish debutant director Vikramjit Singh could have utilized him more.
One has to admit that Jacqueline Fernandez gives her best act till date. In twin roles- as a movie director Ayesha Aamir and as art enthusiast Tia- Fernandez gives a compelling display of performance unlike her earlier ones. Her love tale with Ranbir is as sizzling as with Arjun. Fernandez accent has improved post Kick and her dialogues are well-timed.
Songs by Mithoon have already been in buzz and here they come as a saving grace since movie is too slow and fails to hold your attention. The energy only builds when the brilliant numbers like 'Sooraj Dooba Hai', 'Chitiya Kalaiya' and 'Tu Hai Ki Nahi' among others hit the screens. While they are beautifully picturized, the timing is abrupt of couple of songs. Also hitting back to back disrupts the flow of the flick. The back ground score too takes our praise. It isn't loud and just gels well with the scenes.
Although the movie doesn't entirely comes out as a suspense drama but we keep guessing the link joining Arjun and Ranbir. Scenes which we find erroneous are kept deliberately. Director at times confuses us in scenes where Ranbir and Arjun interact giving us no clear idea about how and why they happened.
Jacquline's look alike who is an art enthusiast too adds mystification thereby appearing as loose threads hanging. We take Ranbir's askme.com advertisement as a big blunder however, on its and other activities' comprehension in the end a smile comes on our face for director's tricky way of implicating them smartly. He gives no crystal clear answer and leaves for the audience to figure out by itself.
Undoubtedly, Roy is visually rich. Thanks to cinematographer Himman Dhamija, Malaysia settings look breath-taking. It's beautifully shot and each frame deserves to be in your drawing room. The silent forest, the grey clouds, the rivers and the roads, everything is picture-perfect. Beaches occupy special place where the romance between Arjun-Jacqueline and Ranbir-Jacqueline blooms. The background score and the surroundings together make up for a beautiful slideshow too.
Roy is extremely slow and it demands your patience and devotion. There are moments which bring a big yawn on your face. It's really hard to understand the two parallel stories of Roy and Kabir conjoining together.  
Three stars for Roy that makes up for a perfect Valentine's Day treat to lovers. It's slow but not shoddy.