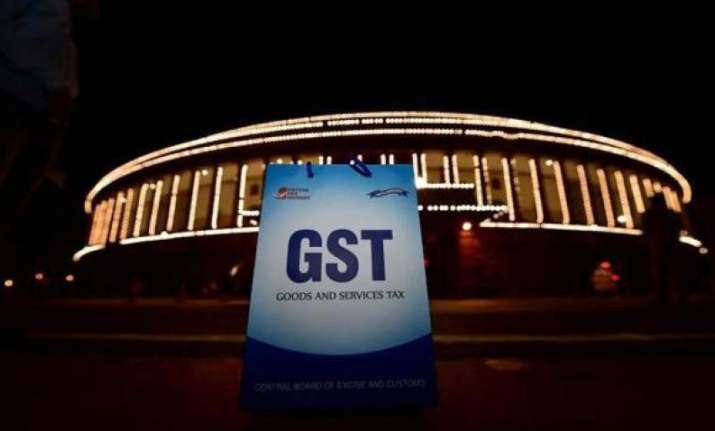 Prime Minister Narendra Modi on Sunday congratulated the people of India on first anniversary of GST implementation. The Goods and Services Tax (GST) was launched on July 1, 2017 in a ceremony held in the Central Hall of Parliament on the midnight of June 30, 2017. The Modi government is celebrating the day as 'GST Day'. 
A vibrant example of cooperative federalism and a 'Team India' spirit, GST has brought a positive change in the Indian economy, PM Modi said in a series of tweets today. He claimed that the tax reform has brought growth, simplicity and transparency.
It is boosting formalisation, enhancing productivity, furthering 'Ease of Doing Business' and benefitting small and medium enterprises, he said in another tweet. 
GST has brought growth, simplicity and transparency. It is:

Boosting formalisation.

Enhancing productivity.

Furthering 'Ease of Doing Business.'

Benefitting small and medium enterprises. #GSTForNewIndia pic.twitter.com/IGGwUm59rB

— Narendra Modi (@narendramodi) July 1, 2018
Earlier on Saturday, the Ministry of Finance in a statement said that the first year has been remarkable both for the sheer variety of challenges that its implementation has thrown up and for the willingness and ability of policy makers and tax administrators to rise up to these challenges and respond befittingly.
"But more importantly, the first year of GST has been an example to the world of the readiness of the Indian taxpayer to be a partner in this unprecedented reform of Indian taxation," the ministry said.
Prior to its implementation the Indian taxation system was a farrago of central, state and local area levies. 
"In the constitutional scheme, taxation power on goods was with central government but it was limited up to the stage of manufacture and production while States had power to tax sale and purchase of goods. Centre had the exclusive power to tax services," the statement said.
"This sort of division of taxing powers created a grey zone which led to legal disputes since determination of what constitutes a goods or service became increasingly difficult."
As per the statement, the introduction of GST is "truly a game changer for Indian economy as it has replaced multi-layered, complex indirect tax structure with a simple, transparent and technology-driven tax regime". 
"It will integrate India into a single, common market by breaking barriers to inter- State trade and commerce. By eliminating cascading of taxes and reducing transaction costs, it will enhance ease of doing business in the country and provide an impetus to 'Make in India' campaign. GST will result in 'One Nation, One Tax, One Market'," the statement added.
Congress terms GST as 'Grossly Scary Tax'
The Congress on Saturday described GST as a "Grossly Scary Tax" and said the promise of a "single tax GST" still remains a pipe dream. The party also said multiple returns, multiple rules and multiple tax slabs have made life of an ordinary trader "nightmarish".
"GST completes 1 Year at 12 O'Clock tonight, it remains 'Grossly Scary Tax' for millions of traders, shopkeepers & businessmen. No wonder GST's more popular description is 'Gabbar Singh Tax' than 'Genuine and Simple Tax' that it was meant to be," said Congress spokesperson Randeep Singh Surjewala in a tweet on Saturday.
"A 'Single Tax GST', as promised, remains a 'pipe dream'. Multiple returns, multiple rules and multiple tax slabs have made the life of an ordinary trader nightmarish," he added.
Surjewala said: "To determine GST itself is frightening. Steps- 1) Every taxpayer has to search a 'Code Book' running into 438 pages with 18,036 categories 2. Out of 7 tax slabs, applicable slab has to be found 3. Add all state cesses 4. Add supply chain incentives 5. Calculate GST."
"Even after one year, only GSTR-1 form exists. Government failed to notify GSTR-2 and GSTR-3. Till that happens, bills won't match and refund would remain a nightmare.
"Also, GSTR-3B is a temporary form. How can government continue to stretch it at all?" he asked.
The Congress leader also said: "Out of 111 lakh registered businesses under GST, not more then 50 per cent have been able to file GST returns." 
"Ambiguity, complication, deficiency of IT infrastructure remains a major challenge. GST collections remain at an average of 90K crore against the target of 1.25K crore per month," he tweeted.
(With inputs from agencies)