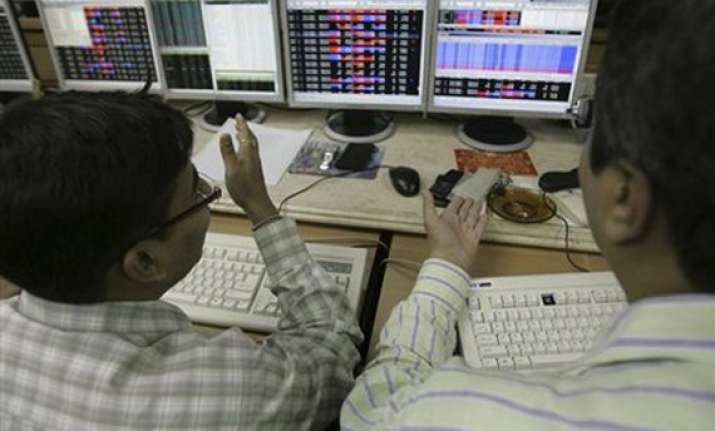 Mumbai, Oct 21: The BSE Sensex fell over 151 points to 16,785.64 today as investors sold interest rate-sensitive stocks amid concerns that the Reserve Bank may further hike its lending rates to tame inflation and lingering doubts over a resolution to euro-zone debt crisis.

Besides, investors booked profits ahead of the next week's settlement of derivative contracts.

Of the 13 sectoral indices, only BSE-Consumer Durables closed in the positive terrain. Realty, capital goods and metal segments led the decline.

The BSE 30-share barometer resumed the day higher and touched 17,032.32. Erasing the gains, it closed at 16,785.64 -- down 151.25 points or 0.89 per cent. Yesterday, it dropped 148.45 points or 0.87 per cent.

Similarly, the NSE wide-based Nifty dipped 41.95 points or 0.82 per cent to 5,049.95.

Engineering and construction giant L&T was the top loser, down by 3.54 per cent, in the Sensex pack. It reported 4.3 per cent rise in net profit for the quarter ended September.

"Market experienced lacklustre trading volumes ahead of the Diwali week and RBI's upcoming monetary policy. Market is expected to be volatile ahead of monetary policy review and October derivative series expiry in the coming week," said Shanu Goel, Senior Research Analyst at Bonanza Portfolio.

Globally, Asian markets closed narrowly mixed over as European leaders indicated yesterday that a solution to euro-zone debt troubles at their weekend meeting may not offer a long term fix yet. European equities, however, were trading higher.

Key indices in China and Japan closed with small losses while from Hong Kong, Singapore, South Korea and Taiwan ended with gains. European stocks, however, were trading higher in the afternoon. The CAC was up 1.07 per cent, the DAX by 0.46 per cent and the FTSE by 0.66 per cent.

FIIs turned net sellers and offloaded shares worth Rs 472 crore yesterday as per provisional data.

In all, 23 of the 30 Sensex-scrips settled in the red while others concluded in the green. Bharti Airtel was down 3.08 per cent, Tata Motors (2.81 pc), DLF (2.66 pc), Hindalco (2.48 pc), Tata Steel (1.88 pc), HDFC (1.66 pc), HUL (1.58 pc), Jaiprakash (1.28 pc), Jindal Steel (1.28 pc), NTPC (1.25 pc), Sterlite Ind (0.99 pc), ICICI Bank (0.92 pc), Infosys (0.85 pc) and ITC (0.76 pc).

However, Maruti Suzuki rose 1.53 per cent and was the top gainer form the Sensex pack as the 14-day strike at its Manesar's plant was called off this morning. Bajaj Auto firmed 1.52 per cent and Hero MotoCorp by 1.15 per cent.

From the sectoral indices, BSE-Realty dipped by 1.99 pc, Capital Goods by 1.88 pc and Metal by 1.36 pc.

The total market breadth on the BSE remained negative as 1,682 stocks closed with losses, as against 1,112 that finished with gains. The total turnover dropped to Rs 2,342.96 crore from Rs 2,580.57 crore.