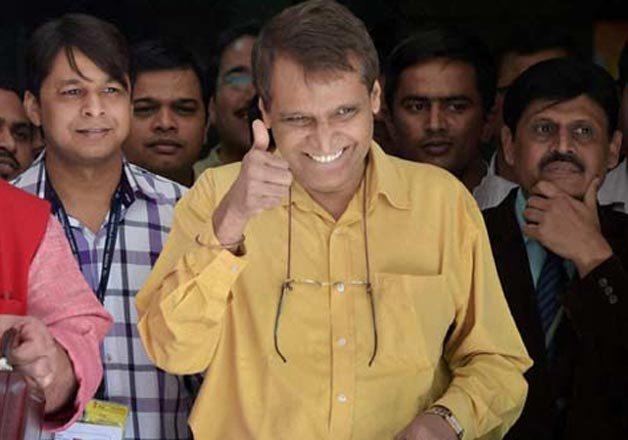 New Delhi: Railway minister Suresh Prabhu today promised to bring an end to the menace of train delays and said all Indian travellers will get confirmed tickets by 2020. He was presenting his second Rail Budget in the Lok Sabha today, outlining the roadmap for the financial year 2016-17.
In some big relief for passengers, the Railway minister left passenger fares untouched and also introduced a slew of initiatives that would help improve the passenger experience during train travel. Improvement of train services and amenities for passengers has emerged as the Rail Budget's mainstay this year.
The Railway minister announced the introduction of several new trains. Antyodaya Express, a long-distance, unreserved, superfast train service, for the common man, will to operated on dense routes. "We will also add two to four Dayalu coaches in some long distance trains for unreserved travel with facility for potable drinking water and a higher number of mobile charging points," Prabhu said.
Three new superfast trains have been announced, viz., Tejas, Uday and Humsafar. While Humsafar Express will be a fully air-conditioned train offering AC-III service with an operational service for meals, Tejas will showcase the future of train travel in India with operating speeds of 130km per hour along with world-class on board services from a single service provider.
Prabhu also announced the introduction of Utkrisht double-decker air-conditioned Yatri (Uday) Express for business routes. This will have an increased carrying capacity of almost 40 per cent.
The Budget also had something in it for women. The Railways has announced 33 per cent sub-quota for women passengers across all reserved categories. A round-the-clock helpline has also been introduced with an eye on women's safety. Catering units will also have reservation for women apart from SC/ST and OBCs.
The Rail Budget also saw a major focus on enhancing the use of IT to provide passengers with a better experience. New measures introduced in this regard include introduction of bar-coded tickets, issue of tickets through handheld devices and easier procedure for cancellation and booking of tickets. Platform tickets are also proposed to be made available through vending machines.
Train coaches too will soon feature a GPS-enabled digital display. Additionally, Wi-Fi services will be introduced at 100 stations this year in partnership with Google. The target is to take this to 400 stations in the next financial year. The Railways also plans to introduce entertainment services for passengers on board. Cancellation of tickets is also set to go hassle-free through 139.
In terms of amenities, there is a lot that is set to change in the coming year, especially in terms of cleanliness. A new SMS-based 'Clean My Coach' service will be introduced in trains. With an eye on convenience for women and children, baby food, hot water and hot milk will be made available at stations and trains.
Bio-toilets will now be introduced in Indian trains gradually with a focus on zero waste discharge. The minister said that 17,000 bio-toilets will be introduced in trains this year. Besides, additional toilets will also be introduced at 475 trains.
Food services are also expected to improve with the Railways promising to make local cuisines available to passengers. There will also be a special focus on ensuring that the food served to passengers is clean and hygienic.
In a continuation of the process that has begun already, stations are set to get a facelift.
The Railways expects to add 2,800 km of track in the next year at 7 km per day against the earlier target of 3 km per day. With an eye on the North East, the Budget also announced getting Manipur and Mizoram under broad gauge. "We have a target of commissioning 2,500 km of broad gauge this year," said Prabhu. The budget for electrification of lines has also been introduced by 50 per cent.
Other plans outlined in the Budget include redevelopment of 400 stations through PPP, joint venture with states for new projects, setting a 2020 deadline for removing unmanned crossings, increasing the lower berths quota for senior citizens and internal audits to revamp railway functioning.
Prabhu pegged the revenue target at Rs 184, 820, signifying a 10 per cent up jump from the revised target. The savings from Indian Railways last year was Rs 8,724 cr. Investment plans for the next year has been targeted at Rs 1.21 lakh crore. The operating revenue expected for this year is 92 per cent (90 per cent after factoring in the 7th Pay Commission recommendations).
Revenue shortfalls, Prabhu said, will be met by innovative measures for revenue generation with a special focus on advertising revenue. The Railways expects to witness a four-fold increase in the revenue generation through ads, besides chalking out a plan to monetise data. Besides, the Railways also plans to set up cold storage facilities alongside in vacant lands near warehousing facilities.