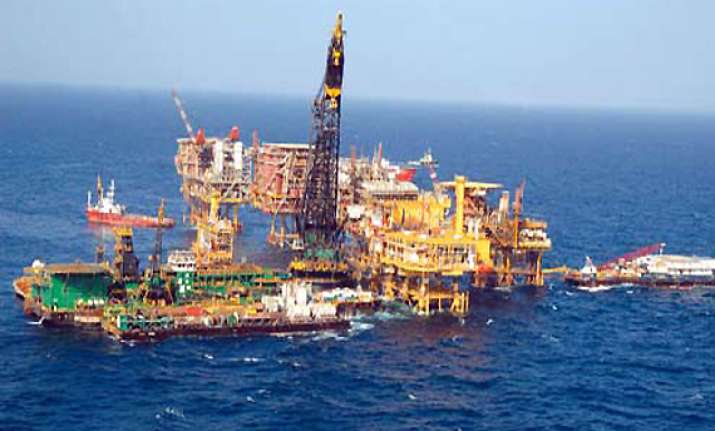 Hyderabad, Feb 16: Oil and gas major ONGC today said three of its KG Basin NELP blocks have run into rough weather following restrictions from the Ministry of Defence, and it may invoke 'force majeure' clause for two blocks.

These two blocks were awarded in the 8th round of NELP to ONGC and Andhra Pradesh Gas Infrastructure Corporation.

S V Rao, Director (Exploration), said ONGC was awaiting the response of Director General of Hydrocarbons on the issue.

Force majeure is a clause in contracts which frees the parties from liability/ obligation on account of extraordinary event or circumstance beyond the control of the parties.

"We believe there is no resolution at this point of time.  Like Cairn has done in the other blocks, we will invoke force majeure. We will have to wait for the response from the DGH.  They said they are trying to resolve the issue," Rao said at a press conference here.

According to a senior official of APGIC, though the seismic survey was conducted in the two blocks, ONGC could not proceed as the Defence Ministry was yet to give green signal.

About the third block, Rao said Defence Ministry had indicated it would give conditional clearance.

"We received a communication just fortnight ago from the DGH where they have indicated they are actively considering," he said.

Defence Research and Development Organisation (DRDO), which comes under the Defence Ministry, had earlier requested the oil ministry to limit the operations in the KG Basin as it is in the vicinity of the missile testing range.

The oil ministry had requested DRDO to shift the testing range; the deadlock still continues.

Sudhir Vasudeva, Chairman and Managing Director, ONGC, said G1 -- the offshore block of the company in KG Basin— may go for production in the first quarter of the next fiscal.

He said Capex for the 12th plan involves Rs 1.64 lakh crore investments, with 35 to 40 per cent for survey and exploratory drilling, 35 per cent for greenfield and brownfield projects, and balance on development drilling. One per cent will be spent on R&D activities.