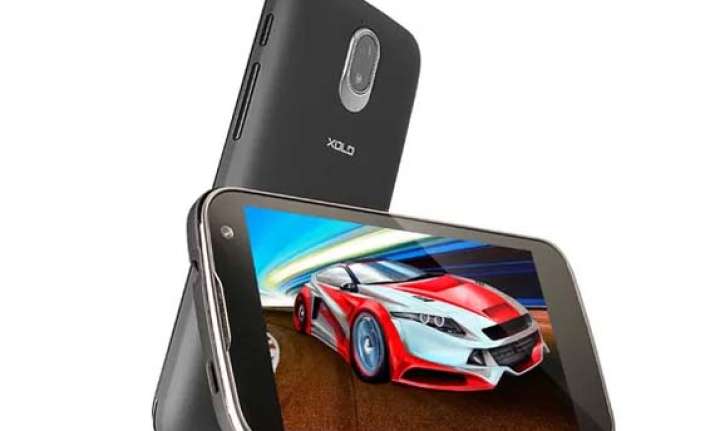 New Delhi, July 15: XOLO has officially launched its first NVIDIA Tegra 3 processor powered XOLO Play T1000 smartphone. The smartphone costs Rs 15,999 on its website.
Xolo Play is comes with a 4.7-inch fully HD IPS display with a resolution of 1280 x 720 pixels. The phone comes with One Glass Solution (OGS) Technology and supports multi-touch up to 5 fingers. It runs on Android 4.1 Jelly Bean. The XOLO Play T1000 comes pre-loaded with TegraZone, where consumers can find, explore and download Tegra-optimized Android games, for a console-quality gaming experience, with more realistic, interactive and challenging gameplay and graphics.
XOLO Play T1000 has 1 GB RAM, 4GB built-in memory expandable up to 32GB via microSD card slot. It has 8MP rear auto focus camera with BSI sensor, 2MP front camera.
Connectivity options include 3G, Wi-Fi, Bluetooth 3.0 and GPS/aGPS options. IT comes with 1900mAh battery.
"As XOLO continues to be a differentiated player in the fast-growing smartphone market in India, the XOLO Play T1000 delivers outstanding performance and exceptional visual content. It offers quick, responsive and visually stunning game play, fast web-browsing and enhanced multi-tasking performance," said Vishal Sehgal, co-founder and director at Lava International.
The phone disappoints given that it comes with Android Jelly Bean version 4.1 instead of the latest version 4.2. Further, it is also heavy and bulky at 167 grams! Xolo Play comes with 2000 mAh battery.
Earlier this month XOLO had added one more smartphone to its Qscore series of smartphones, Q600 with a price tag of Rs 8,999. The XOLO Q600 is the fourth Quad-core smartphone launched by the company.  Before that the company had launched XOLO Q1000, Q700 and Q800 smartphones. 
Specifications: 
1.5 GHz NVIDIA Tegra 3 quad-core processor
Android 4.1 Jelly Bean
NVIDIA TegraZone for gaming
4.7-inch HD IPS one-glass solution display
8MP rear auto focus camera with BSI sensor, 2MP front camera
1 GB RAM, 4GB built-in memory expandable up to 32GB via microSD card slot
3G, Wi-Fi, Bluetooth 3.0 and GPS/aGPS
1900mAh battery